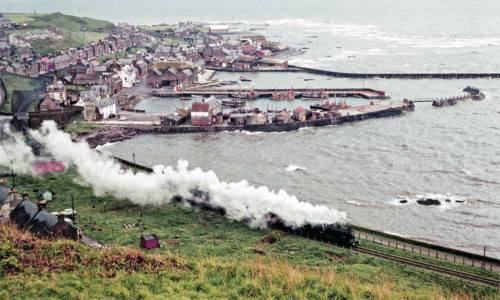 A forgotten railway branch that plied its trade along the North Sea coast for a century has been commemorated 150 years after its first whistle.
The picturesque Montrose and Bervie Railway opened in 1865 as a means for landowners to develop their estates.
It was promoted as part of a plan for an independent route to Aberdeen via the coast, competing with the more inland Caledonian Railway route via Strathmore
But it never lived up to the expectations of its builders and shareholders.
The line was considered one of the most beautiful in Scotland, passing the top of St Cyrus' cliffs with miles of sand stretching in the distance to Montrose, over the deep gorge of Finella Den, and through the fishing villages of Johnshaven and Gourdon.
The line closed in 1966 but not before local woman Mary Officer lobbied its owners for one final gala day, to which hundreds of people flocked from across the UK, many in Victorian dress.
Historians the Caledonian Railway Association have now launched a book marking 150 years since the route was launched.
Author Mike Mitchell said the line was a profitable venture for owners the North British Railway until cars and buses became more popular in the interwar years.
He said: "After the First World War, with the rapid development of road transport, and in particular a frequent bus service on the coast road between Montrose and Stonehaven, revenue on the line rapidly decreased.
"The passenger service was withdrawn in 1951, followed 15 years later by the freight service and the line closed completely in 1966."
The Tayport and East Newport line also saw its last journey on the same weekend, with the 11.20 from Dundee celebrated with bagpipes, the firing of pistol flares, and "small detonators".
Mr Mitchell's study uses primary sources to chart the line's history against the Mearns economy between 1770 and 1966, and the landed interests which controlled it.
The development of Royal Mail services, and the coach and carrier services using the new turnpike road in the early 19th Century are described, as is the rise of bus services in the 1920s.
There are more than 170 illustrations along with a wealth of statistics.
The Montrose & Bervie Railway, published by Lightmoor Press, is available to order from most retailers, via www.crassoc.org.uk or www.lightmoor.co.uk, and by mail order from CRA Mail Order, c/o 22 Laverockhall, Lanark, ML11 7JG.