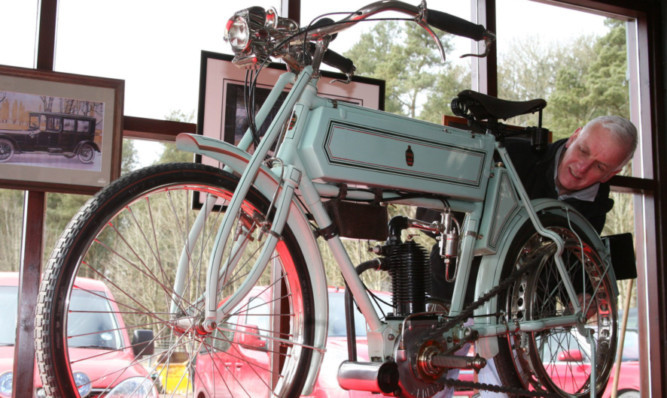 A remarkable journey through Scotland's transport history is about to go on show in Angus.
In what will be one of the most comprehensive displays of home-grown auto-motive heritage ever staged under one roof, enthusiasts have gathered together examples of Scots-made bicycles, cars and tractors, as well as archive material of Courier Country rarities.
The Strathmore Vintage Vehicle Club showcase is part of the Angus contribution to Scotland's Tartan Day programme, featuring familiar vehicles from the height of the nation's standing as an engineering nation to little-known marques from Dundee and Angus.
The thriving Angus club has just hosted a major Austin-themed auction at its Bridge View House base on the site of the old Glamis station and club vice-chairman Stephen Dear said compiling the Tartan Day tribute had been an interesting exercise.
"I would believe this to be a unique display of Scottish motoring heritage that has never been displayed or assembled on this scale under one roof," he said.
Early cars in the display include examples of the Argyll, Arroll Johnston, Beardmore and Galloway machines from the early 1900s to the 1920s.
Of particular interest to two-wheeled enthusiasts will be The Victoria, made in the Dennistoun factory of what would become Scotland's largest motorcycle manufacturer. The example on display at Glamis is one of only around 10 left in existence.
Even rarer is a Don motorcycle, originating from Aberdeen and believed to be the only one left in existence.
"We also have a three-wheeled bike called the Edinburgh trike from the 1880s and around a dozen Scottish-made push bikes, as well as a horse drawn baker's cart made in Glasgow," added Stephen.
Two of the club's own special vehicles, a replica of the cart built for transporting the stone for the Bell Rock lighthouse during construction of the 200-year-old structure and the Queen Mother's Austin Canteen, with the body built by a Forfar joiner, will also be centrepieces of the event next week.
Angus visitors will also undoubtedly be intrigued by photographs of cars with a very strong local connection, including the Dalhousie from Carnoustie, Dundee's Werbell and the 1896 Innes from Forfar.