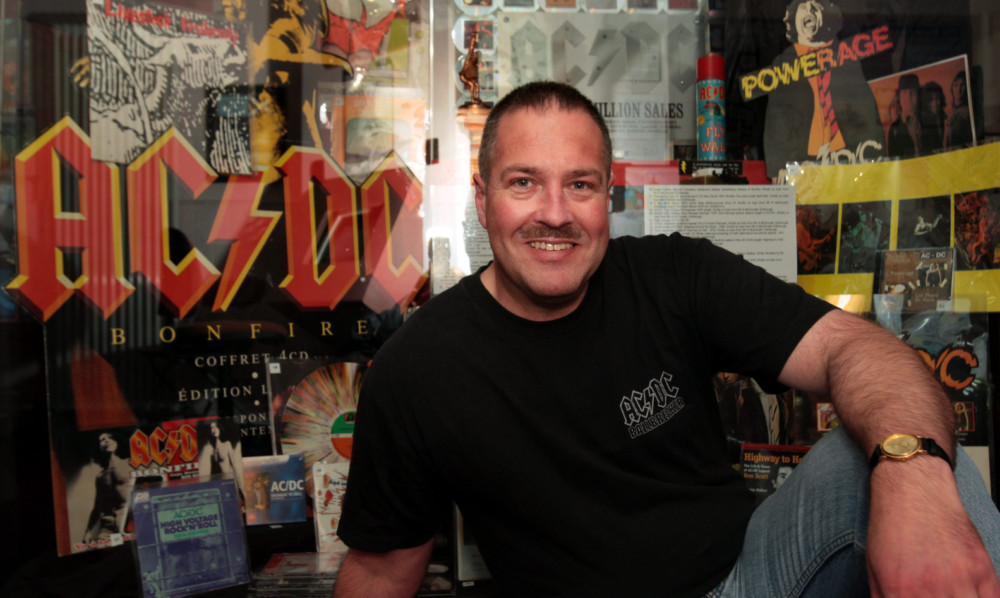 Rare AC/DC items are set to go on display in another coup for the Gateway to the Glens Museum.
Collector Neil McDonald has loaned even more memorabilia celebrating Bon Scott's place in rock history to the attraction in the town square,
It comes just in time for the annual Bon Fest, which will once again see AC/DC disciples converge on Angus to pay homage to one of Kirriemuir's most famous sons.
Neil, who has the biggest collection of Scott memorabilia in the UK, told The Courier: "In addition to the permanent Bon Scott display, the museum has decided to use one additional case for Bon Fest this year.
"Consequently I have provided them with several more rare items of memorabilia some of which I have never displayed before.
"These include an extremely rare reel-to-reel tape from 1979 of tracks from the then forthcoming album Highway To Hell, which was produced at Basing Street Studios in London.
"To promote the continuing legacy of Bon Scott, there are also a number of Bon-related items which have been produced since he died in 1980.
"Unfortunately, I won't be able to attend Bon Fest in person this year due to other commitments, but I am certain that both the existing exhibits and the new ones will generate considerable interest amongst Bon Scott and AC/DC fans alike."
Items already on display include a Let There Be Rock 1977 UK LP which is possibly the only one in existence, and a rare Australian cassette album, 12 Of the Best, which was an AC/DC best-of album scheduled for release in 1978 but scrapped at the last minute.
Mr McDonald has been a fan of the Forfar-born rocker since the 1970s and was keen his collection go on show in Scott's home town.
The first time he met Scott he was standing outside the Glasgow Apollo in 1978 before a concert. He was carrying the last tour programme when Scott drew up in a car, and he asked him to sign it.
Mr McDonald added: "He did and I asked if he would take it inside and get the other guys to sign it as well. He said: 'Why don't you come inside and ask them yourself?' He took me inside and I met the band and they all signed my programme. I met Bon Scott three times before he died. I'll never forget the day he died because it was on my birthday."
Bon Scott was born Ronald Belford Scott in Forfar in 1946 and lived in Kirriemuir until 1952, when his family moved to Australia.
Once there he became part of one of music's biggest success stories after joining Glasgow-born brothers Angus and Malcolm Young in their band, AC/DC.
Scott died in London in 1980, aged just 33.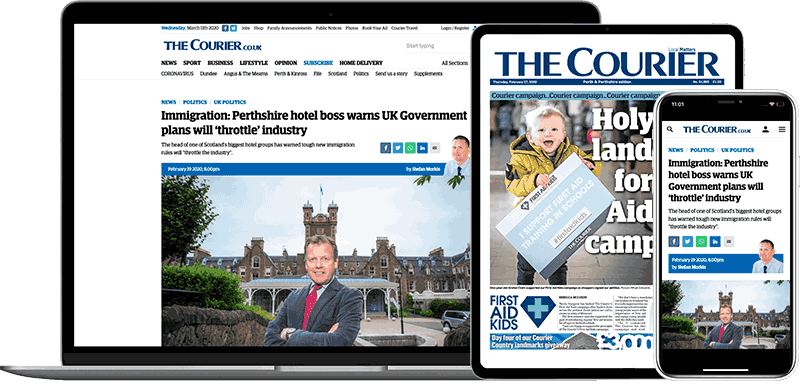 Help support quality local journalism … become a digital subscriber to The Courier
For as little as £5.99 a month you can access all of our content, including Premium articles.
Subscribe