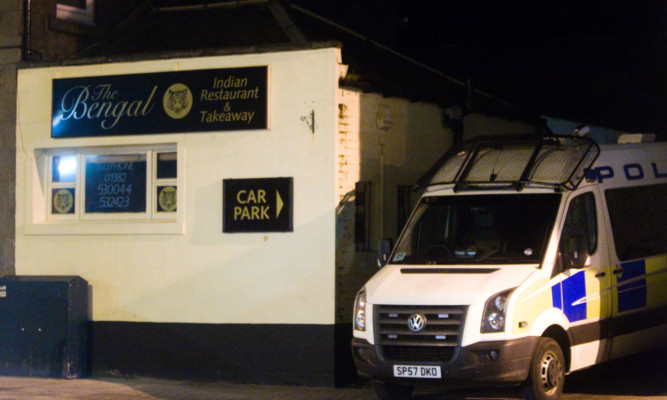 Police have arrested 16 people following simultaneous raids by immigration officers at restaurants in Angus on Friday night.
UK Border Agency staff swooped around 6pm as diners sat down to eat at The Bengal Indian restaurant in Monifieth. Meanwhile, their colleagues targeted sister restaurant The Bengal in Forfar and addresses in Kirriemuir.
Three of the men in custody have been arrested in connection with "organised abuse of citizenship routes", according to police.
Thirteen people are facing deportation after they were found to be working illegally.
UK Border Agency staff arrived in Monifieth in an unmarked van which mounted the pavement before they rushed into the premises.
Police were also scrambled to the scene and were still standing guard at the doors several hours later.
One local said there were "lots of police cars and vans with flashing lights".
Norman Paton (26), of Wellbank Place, added: "I watched them take out boxes."
Pamela Strachan (55), of Grange Road, had a table booked for 6.30pm at The Bengal but was turned away by police.
She said: "I only phoned up at 4pm to book and when I got there the doors were shut. The police came out and told us there was no way we were getting in tonight, but they didn't give us an explanation."
In Forfar, local man Malcolm Miller turned up for a 30th birthday party at the Bengal in East High Street but was forced to stand outside on the street while police apologised for not letting the group inside.
"We were told there was an incident inside and it wasn't likely the place would be open for the rest of the night," he said.
"The guy's girlfriend had been in earlier to decorate the place with balloons and banners, and it looked like inside there were some people, looking very stressed.
"We had to go elsewhere."
Inspector Ally Robertson of Tayside Police said: "Officers executed warrants at a number of residential and business addresses in High Street, Forfar, St Malcolms Wynd and High Street, Kirriemuir, and High Street, Monifieth.
"As a result, two men aged 30 and one man aged 40 were detained in connection with organised abuse of citizenship routes.
"At the same time 13 people were found to be working illegally at the business addresses, and are being detained before steps are taken to remove them from the UK."
He added: "Great efforts were made to keep disruption and inconvenience to customers of the establishments to a minimum."
Immigration officers at the scene described the operation as "complicated".
Carolyne Lindsay, of the UK Border Agency's Criminal and Financial Investigation team, said: "The UK Border Agency will investigate and take action against those who are suspected of abusing our immigration laws for criminal gain.
"We are working with law enforcement partners throughout Scotland to take the kind of action seen in this operation."
Additional reporting by Richard Watt