Police issue stark warning to A90 fly-over vandals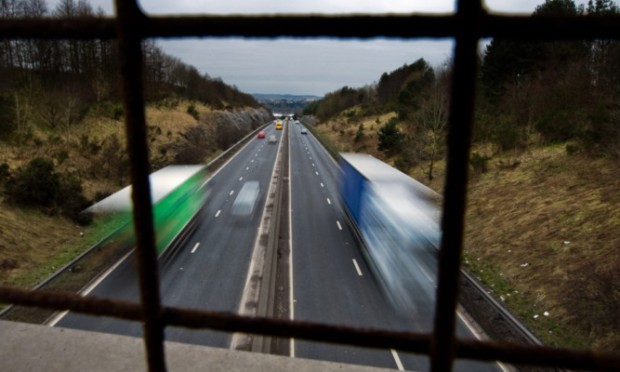 Police and politicians have warned lives are at risk following several reports of objects being hurled from fly-overs above an arterial Tayside carriageway.
Drivers travelling at speeds of up to 70mph on the busy A90 have been targeted by vandals.
One had a lucky escape at the Happas junction on Wednesday night after an object was thrown into their path, and two other incidents were reported at the Powrie Brae flyover on the same night.
Inspector Adrian Robertson said the reckless conduct was putting lives in danger and added that the force are treating this as a major incident.
"Our main concern is that, although there have thankfully been no injuries, the drivers have been very lucky," Mr Robertson said.
"The driver of the lorry that was struck was extremely fortunate and did well to maintain control of the vehicle.
"Thankfully this is not a common occurrence as the potential for serious injury is not worth thinking about.
"However, on the occasions that this does happen, we are going to make sure every possible effort is made to track the persons responsible.
"It is a major incident for us and we cannot allow a person who does this to just get away with it. We will make every effort to bring them to justice."
All three incidents occurred between 10pm and 11pm on Wednesday.
A police spokesman said: "The seriousness and recklessness of this matter cannot be underestimated and anyone who may have any information regarding this incident, or who saw anyone acting suspiciously nearby, should contact Tayside Police on 0300 111 2222.
"Alternatively information can be passed anonymously via the charity Crimestoppers on 0800 555 111."
Similar incidents were reported last summer when several cars were damaged at the same spot after rocks rained down on late-night motorists.
Those in the cars did not know what had struck them but police who attended the scene found rocks on the roadway.
Politicians have condemned the actions and are demanding that the behaviour stops.
North East MSP Alex Johnstone said: "It is incomprehensible why anyone would behave in this way, when it could so easily result in severe injury or death.
"It is incredibly fortunate that, so far, no one has been hurt but it must have been a terrifying experience for the motorists concerned.
"Let me be absolutely clear; this must stop immediately, and I would urge anyone who has any information about who is behind these incidents to contact the police or Crimestoppers.
"This kind of behaviour will not be tolerated and I am confident that those responsible will be caught and made to pay the consequences of their stupid and dangerous actions."