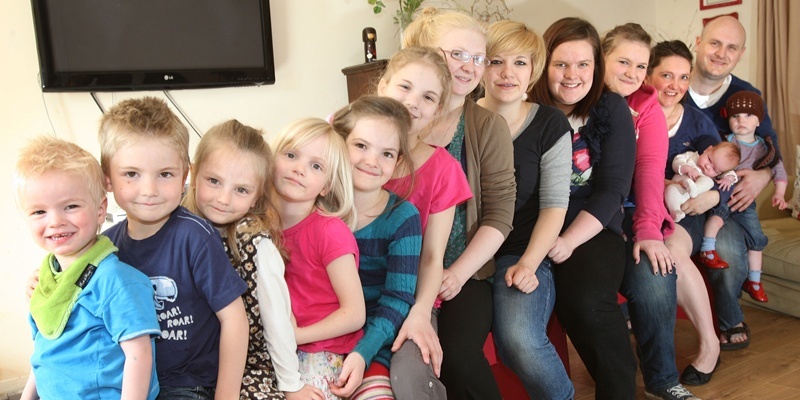 Full-time mother Emma Hann has just had her 12th child with husband Roy, a nurse practitioner at Ninewells Hospital.
Although Emma is from Dundee and the couple started their family in a flat on the 15th floor of a Lochee multi, they lived in America for seven years and only returned to the city in 2006.
They left the city with five little girls and came back with three more girls and their first son. In Arizona Roy rose to be director of emergency services in a hospital, but the hours were long and the heat was relentless.
Roy said, "It was 100 degrees for seven months of the year and you went from your air-conditioned house to your air-conditioned car to your air-conditioned workplace."
Eldest daughter Rachel said, "The kids all had really hard feet because when they ran outside the soles of their feet got burned."
The family moved to Virginia for a time when Roy got a hospital job there, but the pull of home was too great and the children are now living close to their extended family.
The big question, whether two-week-old Posy is the last addition to the Hann family, remains unanswered.
But Emma did say that the couple allow nature to take its course and do nothing to intervene, so the family may get even bigger.
They don't know if their brood is the largest family in Dundee, but haven't heard of a bigger one.
Emma (42) said, "I would love to know if we're the biggest and would love to meet other people who have big families."
There are 10 girls and two boys, ranging in age from baby Posy born two weeks ago up to Rachel (19), who is studying behavioural sciences at Abertay University.
"A lot of people assume we are a merged family," said Emma, explaining that people expect that the couple each had children with a previous partner.
In fact the couple have been married to each other for 21 years, and having lots of children together was a conscious choice. Both come from families with a lot of children.
Roy has eight brothers and one sister. One of his brothers then had seven boys. Emma comes from a family of seven children.
Emma said, "We always wanted to have a big family, but I never expected to have this many."
She has breast-fed all her babies, however Roy does most of the cooking. "He is not the kind of dad who comes home and expects his dinner to be ready," said Emma.
The cooking pots look like something you'd find in a school kitchen, they're so big. The store cupboard has lots of everything and catering-size packs of dried food. Rice is bought in 10kg bags.
When the weekly shop is delivered by a local supermarket, putting it all away is a military exercise involving the children. What's delivered are the ingredients Roy uses to cook meals from scratch.
The couple say home-made food is cheaper than ready meals and better for the kids. The family have a kitchen table specially built by an uncle to be big enough so that everybody can sit round it and eat together.
The family home in Buttars Loan looks like all the other semi-detached homes in the street. But on closer inspection you can spot that the former three-bedroom house has been extended and is now a three-floor family home with six bedrooms.
As regular church-goers, it is handy that the Hanns' place of worship is right across the street. The Mormon family can walk to church which is just as well, because there are too many to fit in their seven-seater car.