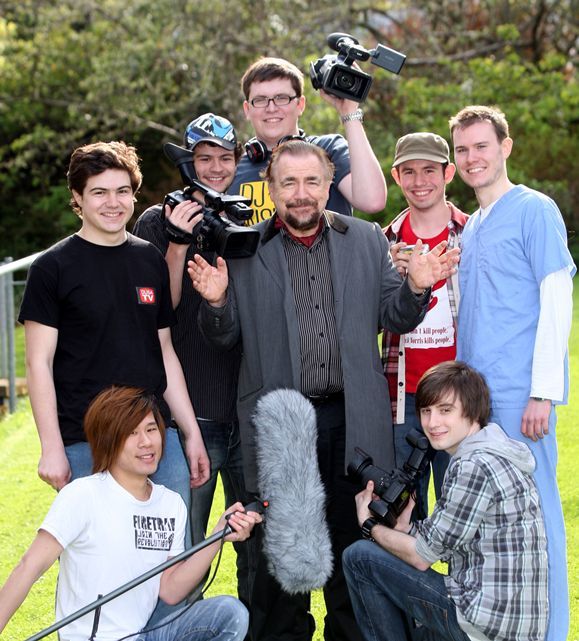 Hollywood star Brian Cox tipped Dundee University students for success as he reprised a film role to feature in a pioneering student drama.
The Dundee-born actor, and the institution's rector, stepped back into the shoes of Lyman Earl Collier, the eccentric scientist he played in Chain Reaction, which starred Keanu Reeves and Morgan Freeman.
This time he swapped a Chicago lab for the College of Life Sciences as part of a special episode of Skint, the students' association's soap.
Aired on the DUSA TV YouTube channel, the soap is written, directed and starred in by students.
Mr Cox said, "The whole thing really is quite extraordinary and I think the students involved are just going to go from strength to strength."
Despite his standing in the industry he admitted he was "very nervous" before the cameras started rolling.
The students behind Skint said working with the actor, famed for his roles in X-Men and The Bourne Identity, had been an "absolutely brilliant opportunity."
English and film student Paul McCallum (19), who plays the lead role of Dan, said Mr Cox would prompt greater interest in the show.
He said, "When we were filming on campus today, you could just see crowds of people gathering round just to watch Brian. Now all we need to do is persuade Ewan McGregor to star in the next episode!"
Mr Cox (63) is on a "fact-finding mission" and today he will visit Ninewells Hospital, which houses several science programmes.
He said, "Dundee is a great university and I think a lot of that is down to DUSA. It's second to none and the finest student union in the country."
The episode of Skint with Mr Cox will be available at www.youtube.com/dusatv from Monday.