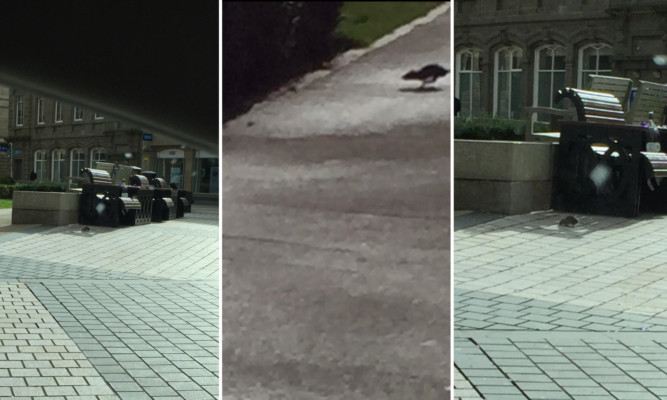 Shocking images of giant rats have been captured on the streets of Dundee city centre.
The pictures were taken by members of the public outside a top visitor attraction, the McManus galleries.
Dundee has an enviable reputation for cleanliness, but the Labour group believes the photographs foreshadow what will happen when budget cuts reduce street cleaning.
The photographer said the people of Dundee had a right to see the consequences of cutting staff and environment services.
The vermin were spotted in an area where bags of refuse were still awaiting collection by Dundee City Council staff.
In a statement, the council pointed out that changes to street cleaning and open space management had yet to be implemented and stressed the significant pest control efforts made each year.
Nonetheless, Labour councillor Richard McCready said the images were a cause for concern and pledged to raise the matter with officials.
He told The Courier: "These pictures are shocking and I will be seeking answers from the council about this.
"The case for reducing the numbers of street cleaners has never convinced me.
"Dundee is one of the best performing council's for street cleaning according to surveys. It is strange that the council has chosen to undermine this by reducing numbers of workers.
"The council needs to ask whether the people of Dundee want to see rats running about in our city centre or anywhere else. I think I know the answer to that."
The member of the public who captured the images said it was not the first time in recent weeks that he had seen rats in the city centre.
He said the images should make the council think again about cutting street cleaning staff.
"We have seen the rats there on a number of occasions when there is rubbish waiting to be collected," said the photographer, who asked not to be named.
"They have been seen on the benches too, where people sit to eat sandwiches and have their dinner breaks."
A council spokesman said: "The street cleaning and open space management review approved by the policy and resources committee on December 7 has not been implemented yet.
"Work is going on and it will be brought in soon.
"Meanwhile the council's pest control service responds to requests for advice and assistance from across the city.
"The team has a wide experience of delivering a full range of pest proofing and pest control treatments carrying out more than 7,000 visits a year.
"Pest control officers will ensure that all necessary actions are taken to prevent or resolve any problems."