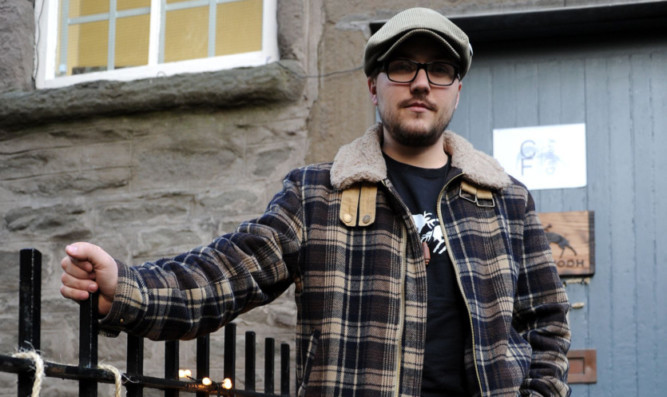 The owner of a new business has condemned a vandal who is repeatedly targeting his premises.
Tim Ockenden, 25, who runs gentlemen's store and gallery Cabar & Fiodh in Nethergate, faces a bill of hundreds of pounds after his CCTV system was destroyed and Christmas lights cut in the latest incident.
Mr Ockenden said the shop opened six weeks ago and drew the attention of the vandal "straight away".
He said: "We had a big rope sign weaved on to the gate using about 70m of rope. The first weekend that had been cut into foot-long sections and chucked in the bin.
"We initially thought someone had taken it down, but then we found it all in the bin.
"It's a street alleyway and I originally thought it could be just anybody, but then the guy from (neighbouring bar) Tonic, said he'd had issues in the past.
"Ever since then, it's been things like ripping posters and signs off the door."
Mr Ockenden said the latest incident on Thursday morning had caused the most damage.
He said: "I came in and saw the Christmas lights were cut again. I had put them back together before, but then they were cut through this time cleanly and all the cable had been pushed under the door.
"I thought I'd check my CCTV and it wasn't working, so I looked and it had been disconnected and the cable pulled apart.
"The camera is broken and the cable all ripped off.
"It's a bit discouraging. It costs money to fix and if we have the police van parked outside every couple of weeks that doesn't look good for us.
"Coming up to Christmas the last thing you want is fixing CCTV cameras and it's a narrow alley so we have to close every time the police van is there."
Mr Ockenden said he has "a good idea" who is responsible for the vandalism, having been approached by a man "shouting and screaming" at him while he spoke to a customer.
He said: "That was a good indication he wasn't happy with the shop. We're trying to put something back into Dundee you'd think people would support us."
A Police Scotland spokeswoman said: "We have been contacted by the shop about this and previous incidents and the matter is being investigated."
Anyone with information should contact police on 101 or speak to any officer. Alternatively, Crimestoppers can be contacted anonymously on 0800 555 111.