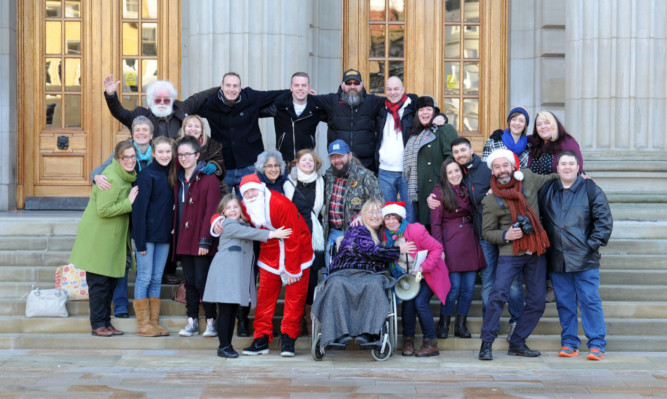 Humans of Dundee project has celebrated its first year at the Caird Hall.
The Facebook project aims to celebrate the stories and people of the city and was started by Dylan Drummond at the beginning of the year.
Inspired by the Humans of New York project, Dylan set out to capture the spirit of Dundee in pictures of its residents and their stories.
He said: "We wanted to see real people, and tell their real stories.
"I think independence has been a great thing for the city, people see Dundee as its own city now, its own capital.
"It inspired some lively debate as well.
"As a people I also think that we don't forget those who don't have whenever we have a charity appeal there's lots of liking and sharing.
"Very recently we've seen such regeneration in the city, not just in the city centre and at the waterfront but in Stobie and Lochee.
"Places like Ardler have been completely rebuilt.
"It's only real growth if the people are growing, and Dundee still has a lot of problems with poverty, unemployment and lack of education and we can expose that as well as discussing people's personal journeys.
"We're looking inward but I think more than ever before we're an outward looking city this year in particular we've looked out to the world."
Tammy Shaw, another founder, said: "There are good folk in Dundee.
"I'm not convinced by 'One city, many discoveries', it should be 'nae too big, nae too small, just braw'."
One of the subjects being photographed as part of the project, Dundee artist Shaun Kerr said the project gave him an understanding of the city while he was working in Texas.
He said: "I had lots of new adventures, and Facebook was a major thing for me to see life back home, it was like a letterbox snapshot.
"It was an eye-opener to come back because the city is absolutely massive for creatives now and it's so different."
The pair hope to continue the project through the New Year.