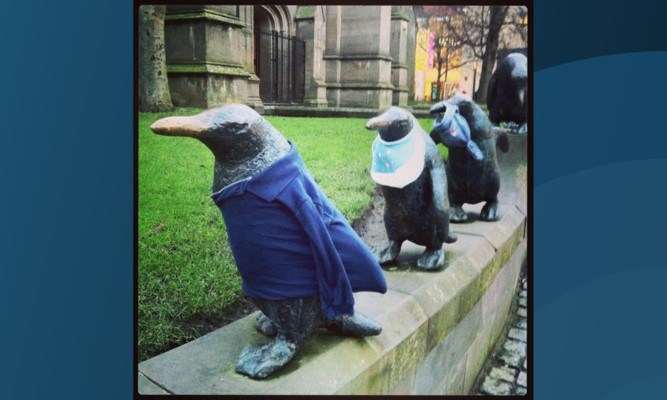 Dundee's phantom penguin fanatic has struck again giving the city's cheerful mascots a festive make-over.
The penguins have been spruced up by an unknown bird fancier and were snapped by a member of the public who posted the picture on twitter.
They said: "The Dundee penguins are at it again this morning. Not quite sure what look they were going for this time. Ha."
However by lunchtime another passer-by said they had been stripped naked, and on his next visit only one was feeling cosy, wearing a bib, jersey and tammy hat.
The Christmas shopper said seeing the penguin dressed up put a smile on his face.
He said: "I went past back of 12 were naked. None of them had anything on. The next time I past one was wearing clothes and that put a smile on my face.
"I think it is cute that someone has done that. He looks very festive."
The man said he would like to see more people embrace Dundee's public art and start dressing up other sculptures for winter.
He said: "It is so lovely I feel it is a shame the Discovery penguins have been left out. With their heads burrowed into their chests they look so cold at this festive time.
"It is like those penguins have been forgotten. I say if you dress one penguin you should dress them all. Silvery penguins need love too."