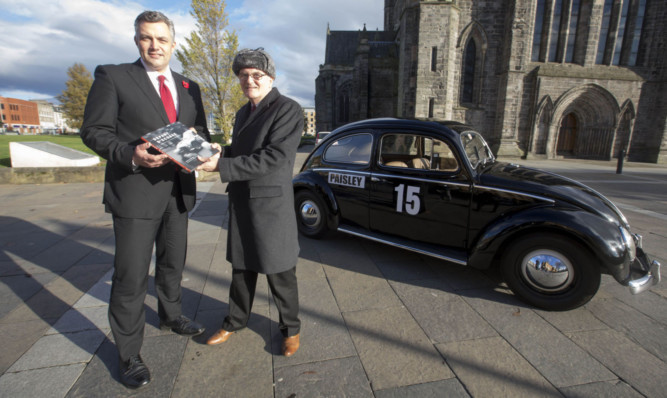 As a youngster, Douglas Anderson dreamt of seeing the thrilling Monte Carlo Classic Rally in his home country.
Now, the fruition of that lifelong ambition has been outlined in a new book.
Douglas, who now lives in Broughty Ferry, was just 10 years old when he first saw grainy Path newsreels of glamorous cars leaving Glasgow on their odyssey to Monte Carlo.
Immediately he fell in the love with "the Monte", a 2,000-mile endurance rally across the Alps to the principality and vowed to bring the start back to Scotland.
It was not until nearly 50 years later that Douglas, then in his early 60s, managed to achieve the dream people told him would never become a reality.
In 2011, the centenary event returned to Glasgow for the first time since 1973, and this month around 60 classic cars are gearing up for the 2015 start from Paisley.
A book, Depart D'Ecosse, follows the retired academic and volunteer motorsport event organiser and his successful quest to return the start to its Scottish "home" a move that has brought £5 million to the nation's economy and attracted global media coverage over four years.
And as he has done since 2011, he will also be among the drivers heading across the Channel from Paisley to the sunshine of the French Riviera on January 28.
"I was at the cinema as a young boy, and it was there that I first saw the newsreels of the Monte Carlo Rally," he said.
"I was captivated by the beautiful cars, the adventure and the glamour, and I wanted to go to Glasgow to see the drivers being waved off on their journey to France.
"My dad was working and I was too young to go through on my own from Dundee.
"As a result I never, ever saw any of the old Scottish starts in the 1950s and early 60s.
"Glasgow lost the event after 1973 as it evolved into a more commercially orientated rally, and I thought that my chance of ever seeing the Monte in real life had gone."
The book charts the steps to the event's return, from the formation of a car club to convincing the organising club, the Automobile Club de Monaco, to choose Scotland as a start point.
Legends of drivers towing 17ft caravans, piloting outlandish vehicles, enduring dramatic accidents and undertaking feats of heroism are all recounted.
The book contains previously unpublished images by photographer Stewart Ramsay and a foreword by rallying legend Paddy Hopkirk.
"Everyone said the Monte would never come back to Scotland.
"That was probably the spur I needed," added Douglas.
"When the organisers in Monaco finally told us we had secured the start in 2011, it felt like the end of a journey.
"It was actually only the beginning, as the book illustrates."
The Monte Carlo Classic Rally has attracted almost 50,000 spectators since its return to Scotland in 2011.