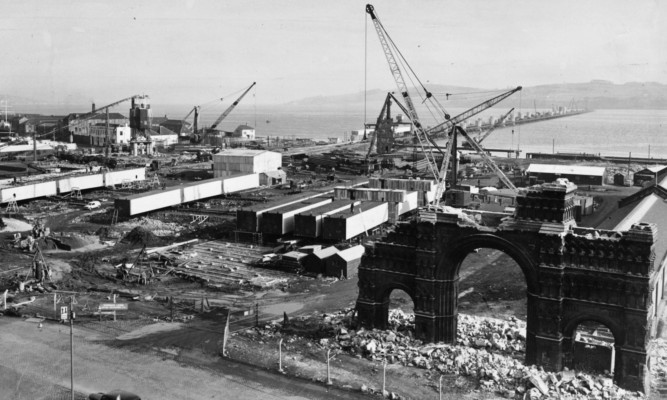 Fans of old Dundee have launched an ambitious bid to bring back the Royal Arch and have gained hundreds of supporters in a matter of hours.
Enthusiasts behind the Lost Dundee page on Facebook say a range of people have made similar calls over the years. They feel the time is now right for a more concerted effort to convince the city council to restore any parts that remain or recreate it from new.
Launching an online petition today, they said: "Dundee's famous Royal Arch has sadly been gone for a number of years now.
"It seems that a very high percentage of all us here at Lost Dundee feel that it should return or at least be replicated and reinstated to its former glory.
"Over the years a number of individuals have tried to fight this case. However, the voices have fell on deaf ears.Do you own a piece of the Royal Arch? Phone 01382 575130 or email news@thecourier.co.uk"So we have put together a petition to fight for the Royal Arch to be put back in its rightful place at Dundee docks as the new developments unfold among the people."
The Royal Arch was demolished as part of a land reclamation scheme and to make way for the Tay Road Bridge.
https://youtube.com/watch?v=TkMlveaD0dM%3Frel%3D0
On March 16, 1964, it was dynamited and the remains were thrown into the King William IV and Earl Grey Docks.
Afterwards the docks were filled to accommodate sliproads for the bridge.Post by Lost Dundee.Remains were discovered in 2010 during preparatory work for the waterfront development to remove and rebuild the ramps at the Dundee end of the bridge.
A fragment of the original structurewas presented to The Royal Arch bar in Broughty Ferry.
For more on this story, see Friday's Courier or try our digital edition.