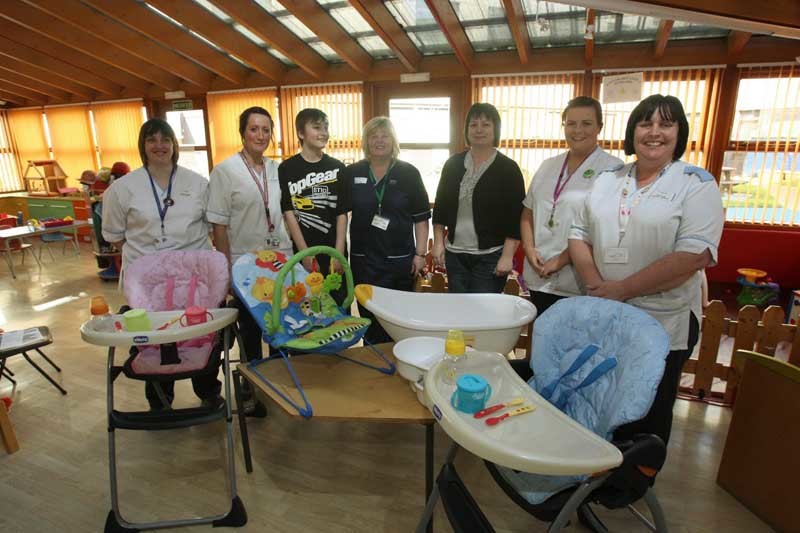 A Dundee family face the prospect of moving to Surrey, as their disabled 13-year-old son cannot receive the rehabilitative care he needs in Scotland.
Nathan Buik was playing football for Dryburgh Athletic in 2008 when he collapsed without warning.
He was found to have hypertrophic cardiomyopathy, the same heart condition as Motherwell and Celtic player Phil O'Donnell, who died at the age of 35.
A second collapse, walking to school at Baldragon Academy, led to Nathan being transferred immediately to the children's hospital at Yorkhill in Glasgow, where he was fitted with a pacemaker.
While out spending his Christmas money with his cousin on Hogmanay, Nathan collapsed again as he boarded a bus, falling on to the pavement and hitting his head.
The teenager suffered a brain injury as a result of a cardiac arrest associated with his condition, and he needs constant and significant physical and psychological support.
Now the family have been told that there is no suitable treatment available to cater for Nathan's specific condition in Scotland and the only option available is to move to a specially-adapted centre in Tadworth, Surrey.
Nathan's father Derek said, "Unfortunately, the fact is in Scotland in general there is nothing there to support Nathan due to the extent of his injury and his age.
"He has moved between Yorkhill and Ninewells but both have held their hands up and said there is nothing they can do."
Derek stressed the family were not looking to attack either hospital Nathan has been treated in, but receiving full-time treatment in England poses logistical problems for them.SupportWhile Derek and his wife Linda would move down with Nathan, they say support is still needed from their extended family.
The couple also have a 24-year-old who has learning difficulties and added they have been "overwhelmed" with the backing they have received from the community, in particular through fund-raising efforts.
They also want to raise awareness about Nathan's condition so that other families in similar situations will have more support available to them closer to home.
"The family is doing things over and above the call of duty and our friends have really been digging deep," said Derek.
"Dundee FC have been really good with us and we have been invited to Dens a few times, which has been fantastic for Nathan as he's a lifelong fan.
"Truth be told, there has been far too much to write about on an individual basis."
He added, "It is very early stages in Nathan's recovery and we will have various meetings to determine what the future holds as far as we are concerned.
"This is the first step to making sure Nathan gets what he deserves."
A fund-raising Race Night for Nathan is being held on Friday at the Craigowl Suite of the Nine Maidens pub.
There are only a few tickets left, which are priced at £5 and can be purchased by calling Derek on 01382 818209.