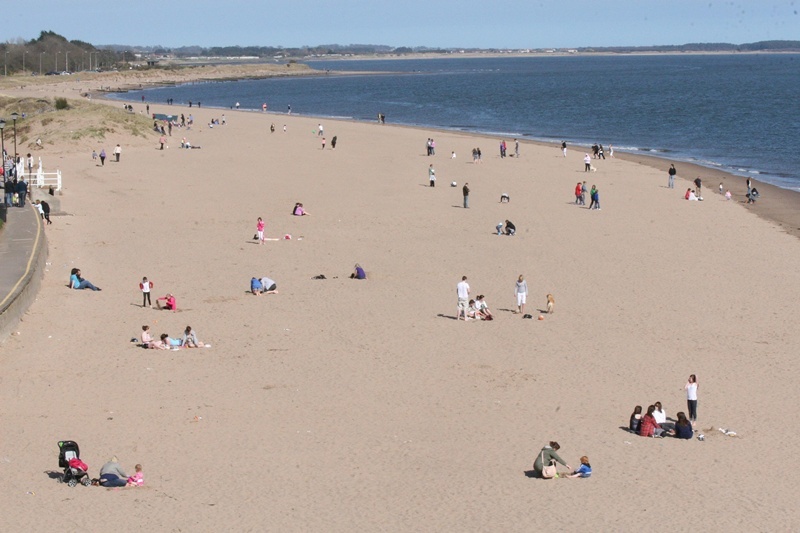 Broughty Ferry beach could be just one heavy rain shower away from losing its prestigious Blue Flag.
Council leader Ken Guild admitted the beach is effectively on its "final warning" after a fourth water sample failed to meet the demanding standard set by Keep Scotland Beautiful when making the award.
To make matters worse, it appears there is little anyone can do to rectify the situation but pray for a long spell of sunny weather.
The Scottish Environment Protection Agency (SEPA) analyses water samples taken at the beach on at least 20 separate occasions during the bathing season, which runs from June to September. Only four below-par samples are allowed if the Blue Flag is to be retained.
Unfortunately, of the 11 results published so far, just seven have met the higher "guideline" level of cleanliness and the remainder have only been good enough to reach the European Union's "mandatory" standard.
The finger has been pointed at the recent heavy rain in Tayside, which is being blamed for washing animal manure and other contaminants into the river. Even so, with all Broughty's "get out of jail free" cards used up and at least a further nine tests still to go, only the most dedicated optimist would be prepared to put money on the popular beach's chance of hanging on to its Blue Flag.
"We have been the victims of freak weather conditions and it's not the first time this has happened," said Councillor Guild. "I think the very heavy rain a couple of weeks ago has washed a lot of stuff out into the river further up and, of course, it ends up here.
"This is a final warning sort of thing and unfortunately it seems we can expect some rather changeable weather so we are just praying that there will be no more floods in Perthshire."
Apart from maintaining the highest water quality, Blue Flag beaches have to meet a number of rigorous criteria and demonstrate that they are generally well-run. To that end, a great deal of work has been put in to upgrade the beach in recent years.
"As I have said before, tremendous credit is due to the council staff who brought the beach standard up to the present level," said Councillor Guild.
"There is a feeling of frustration and it is something we just have to learn to live with, though I can assure everyone that the council will make every effort to ensure that the beach remains at a high standard."
Broughty beach had its Blue Flag removed in 2007 when, again, unexpectedly heavy rainfall badly affected the water test results however, it won the honour back last year.