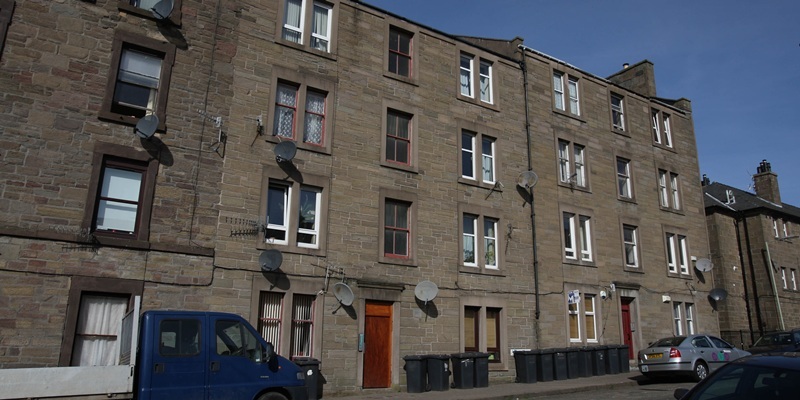 Clepington Street in Dundee could not be further from the luxury lifestyle of property tycoon Scot Young, with his celebrity friends, Surrey mansion, fleet of luxury cars and yacht berthed at Monaco.
But the grey four-storey tenement at number eight is where the 49-year-old's life began.
Last week at a court in London, some of the life of Young once described as one of Britain's wealthiest property developers whose fortune was estimated at £2 billion was opened to the full glare of publicity.
He is involved in bitter £400 million divorce proceedings with his wife Michelle (47), who claimed he used his rich friends and associates to hide his multi-million pound assets.
Mrs Young, who is seeking a £200 million settlement, says she is destitute and wants maintenance for herself and two teenage daughters.
Her husband, however, who was declared bankrupt last year, insists he is £28 million in debt.
The 49-year-old's lavish lifestyle has seen him own some of the finest homes in England and when happily married the Youngs travelled by private jet and were waited on by teams of servants.
Scot once bought her a Range Rover filled couture dresses worth tens of thousands of pounds and his 40th birthday present to her was £1 million worth of diamond jewellery.
The couple met in London more than 20 years ago, and in a recent interview, Michelle said Scot didn't say much about his past.
He told her he was from Dundee and was in the property business but didn't elaborate on his background.Property marketThey first lived with her parents in Upminster and she said her father helped Scot with his business career by introducing him to contacts.
The property market was expanding at the time and Scot and Michelle bought houses to renovate and sell on with considerable success.
Their marriage became unhappy and in 2005 they tried to make a fresh start in a £3.5 million beachfront home in Miami.
However, his spectacular rise in the world of property juddered to a halt after he negotiated a £2 billion deal for a shopping and retail development in Moscow.
Scot was away from home for months when Michelle was called by his solicitor who broke the news that her husband had lost all his money.
In the same way that he refused to openly explain the full story of his success, little is publicly known about the detailed reasons for the collapse of his empire other than Scot saying he had been a victim of the recession.Ain folkThe news that one of their "ain folk" had risen from humble beginnings to become a billionaire property tycoon was greeted with amazement by people in the Clepington Street area.
Gary Logan (43) said, "It just shows how close knit the world is. I'm astonished that someone from this back yard has risen so far."
Daniel Irvine (51) said, "It is good that he has done so well with his life and has become so wealthy, but it's odd that he's saying he has lost it all."
Paul Bowers (44), who runs a garage in Clepington Street, said, "This is a humble area now, and that's quite a story that that chap in the news came from that block across the road.
"We don't get many people coming in here with Bentleys and the like, but I'll keep my eye out for him."
Lorraine McLeod (59), who moved out of her flat at 8 Clepington Street this weekend for a bigger flat in Broughty Ferry, said she was shocked to learn that a former resident of the block was an infant Scot Young.
"I've been reading about that case in the papers and it said he was from Dundee, but I'd never have guessed he was from this tenement block," she said.
"He would have been too young to know anything about this area at the time and I don't know if he knew it too well when he grew up a bit, but I don't suppose he would think much of this area now.
"There are lots of problems with youngsters playing in the back gardens and damaging fences. It's a far cry from the life that Scot Young grew into."