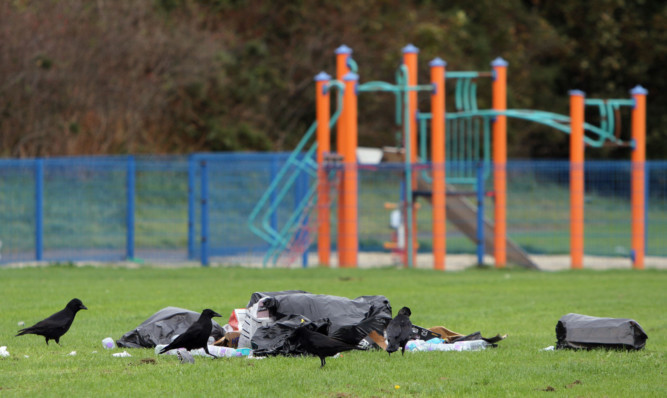 Organisers of a charity race have apologised to residents after bags of rubbish and sand were left blowing about Broughty Ferry beach front.
Plastic bottles and food packets were left strewn across the grassy area close to Barnhill Rock Garden.
The litter was left behind after Broughty Ferry was used as a pit stop and starting point for the shorter route, when almost 1,000 people took part in Dundee's first Kiltwalk on Sunday.
Kiltwalk founder Carey McEvoy apologised to residents for the mess, which Dundee City Council helped clear up.
He said: "Of course we're sorry this has happened the Dundee Kiltwalk was a fantastic first event in the city for us and we'd hate the residents to think that we weren't taking care of their stunning seafront area where this pit stop was located.
"Our amazing army of Dundee volunteers received a lot of praise from the walkers on the day and on Facebook. Unfortunately a miscommunication between the teams led to this incident and we'll be putting plans in place to make sure it doesn't happen again.
"Nearly 1,000 people took part on Sunday and we expect £200,000 to be raised for our children's charity partners and scores of local causes such as TCCL, Dundee Carers Centre and Perth Autism.
"It was beautifully captured by The Courier's photos and video but this is obviously a photo that isn't as great as the rest.
"We hope to be back in Dundee in 2015, bigger and better to support even more of Dundee's children."
Councillor Laurie Bidwell said it was good that the event brought a lot of people in Broughty Ferry, but he hoped organisers will learn a lesson for next year.
He said: "The event was good for the city and good for Broughty Ferry. It made good use of the green circular route, and a lot of businesses will also have benefited from so many people coming through.
"This was clearly an oversight, but it is good that we have active citizens who reported this. I hope they will repeat the event and when they do, they will learn from this year and have better plans in place to deal with the rubbish."
Dundee City Council's environment convener Craig Melville said the Kiltwalk organisers were responsible for cleaning up their own mess, as per an agreement with the council to hold the event.
Plans are already in place to host the walk in the city next year.