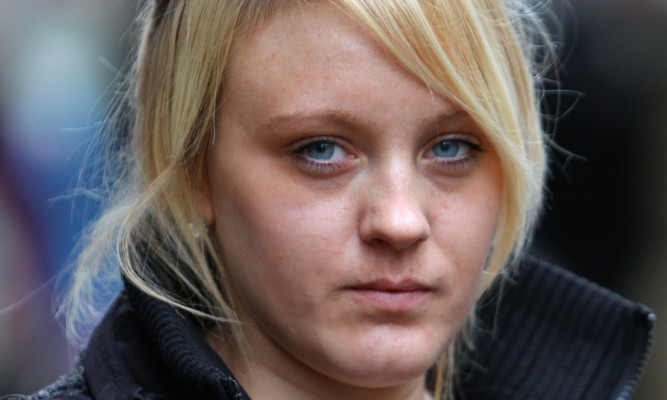 An expectant mother of two was left with no money to buy food or heat her home after having her benefits stopped due, she says, to her inability to use a computer.
Angela Foley, from Menzieshill, who is nine weeks pregnant and has two children aged eight and 10, was sanctioned by the Department for Work and Pensions (DWP) after failing to properly use the agency's online Universal Jobmatch system to try to find work.
Despite pleas to the DWP on Friday, the 28-year-old was left in tears after being told she would not be given a hardship allowance to see her and her children through last weekend.
Campaign group Scottish Unemployed Workers Network (SUWN) put her in touch with a Dundee foodbank scheme and organised food parcels.
Dr Anthony Cox from the SUWN said: "A letter of appeal against her sanction was handed in and she was forced to go through the rigmarole of applying, again, for hardship allowance, but was told an interview could not be arranged until Monday.
"Angela had no money and no food to see her, her unborn child and her two young children, through the weekend. We were able to ensure that the Taught by Muhammad food delivery team would deliver a food parcel to her home on Saturday."
Angela said: "I've only got my child benefit to live off, and with it being so close to Christmas and everything, I'm struggling as it is.
"I've also had problems paying for the gas and electricity when the gas runs out you can't bath the kids or even heat up food."
Mr Cox says on Monday staff were apologetic and a hardship allowance was quickly organised.
However, he claimed they were told she had not actually been fully sanctioned but was subject to a "discontinuance of entitlement", which he says is a "back-door method of stopping claimants' benefits" while not being counted as a full sanction.
"This is a vulnerable young woman who does not own a computer and she has to go to Lochee Library and hope there is someone there who can log on for her."
A DWP spokesperson said: "Sanctions are only used as a last resort for a tiny minority who don't follow the rules and hardship payments are available if people need them".