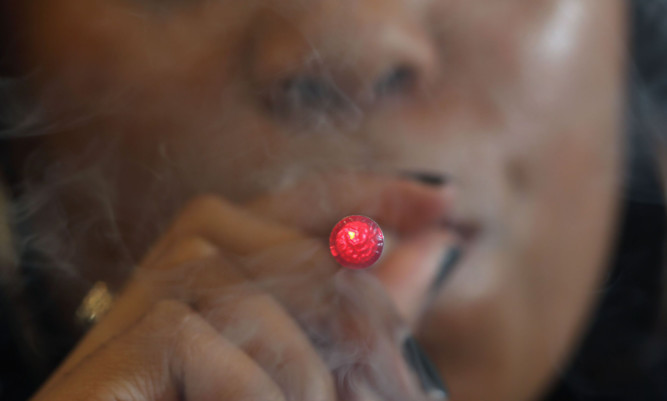 Smoking e-cigarettes inside could be banned under Dundee City Council-backed plans.
Councillors have been asked to approve a Scottish Government proposal to prohibit the smoking of electronic cigarettes indoors.
If approved nationally, the plans would see e-cigarette use face the same restrictions as regular tobacco.
Smokers' rights group Forest have slammed the proposals, claiming that the officials involved appeared to be "more interested in control than public health".
The city council's environment convener Craig Melville said the move is part of a "major battle" against smoking.
He said: "I am very keen that the same restrictions as the general smoking ban can be placed on e-cigarettes as soon as is possible.
"This would be to the advantage of the health of people across Dundee and Scotland.
"We are proposing what I think is a sensible approach and one which follows policies that have been adopted by NHS Health Scotland.
"We have a shared duty to work in partnership with our health board to improve public health.
"There is still a major battle ongoing on to convince people to give up smoking and reduce the risk of making smoking attractive to children."
Figures from the Action on Smoking Health reveal an increasing number of young people in Scotland are experimenting with e-cigarettes.
Their 2014 survey found that 24% of 13-14-year-olds, 48% of 15-16-year-olds and 46% of 17-18-year-olds had used an e-cigarette, or Electronic Nicotine Delivery System (ENDS).
The survey also revealed that 18% of those young people who had used an e-cigarette had not previously tried a normal cigarette.
Simon Clark, director of the smokers' group Forest, said that using e-cigarettes, or 'vaping', was entirely different to smoking.
"There's no evidence e-cigarettes are harmful to the user or anyone else, nor is there evidence e-cigs are a gateway to smoking, so a ban is out of all proportion to the risk," he said.
"Smokers are increasingly turning to e-cigs to help them cut down or quit so why on earth would anyone ban their use in public places?
"Proposals like this suggest officials are more interested in control than public health."
The proposed response in favour of banning the smoking of e-cigarettes in enclosed spaces will be discussed at the environment committee on Monday.