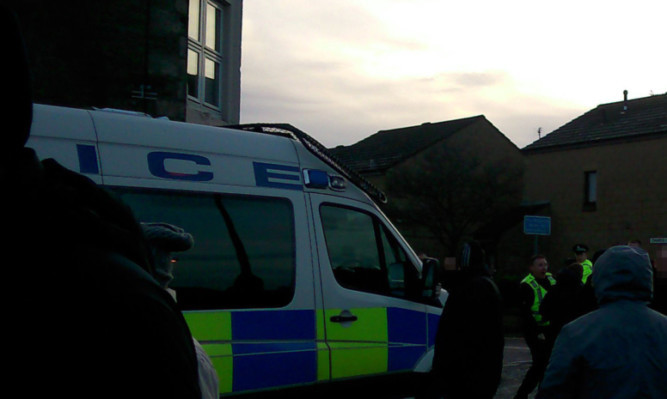 There were more than a dozen arrests as trouble flared ahead of Dundee United's Tannadice clash with Aberdeen on Saturday.
Police were called to the Ambassador pub on Clepington Road after trouble flared shortly after 12.30pm and dozens of fans were involved in scuffles before the pub was cleared of football fans, one of them even holding up a sink which had apparently been ripped off the toilet wall.
Staff said the pub had to be closed for four hours until it was deemed safe to reopen.
One man was arrested at the scene and the crowd was dispersed by police.
Mounted police officers also had to gallop up North Isla Street from Tannadice to deal with a group of around 30 "casuals" who had descended on the Snug Bar in Main Street.
The mounted officers were joined by a large number of other officers in cars and with dogs, and they quickly calmed the situation down.
One woman who witnessed the incident at the Ambassador said it was the worst scenes she had ever seen in the 20 or so years she has been going to Tannadice.
"I've been going to all the big games against Celtic and Rangers but I've never seen anything like it," she said.
"They were like a pack of wolves…if it wasn't for the police I dread to think what would have happened."
A police spokesperson confirmed there were several "skirmishes" in the streets around Tannadice but added there was "nothing major" and the incidents had been quickly dealt with by police.
He confirmed the Ambassador was closed to football fans and said there was one male arrested at the scene.
In addition, the spokesperson confirmed, there were 13 other arrests, all drink-related, 12 of them outside the ground.
Aberdeen won the game 2-0.
*For more on this story, including eyewitness accounts, see Monday's Courier or try our digital edition. If you witnessed the trouble or took any pictures, please contact news@thecourier.co.uk or call our newsdesk on 01382 575130.