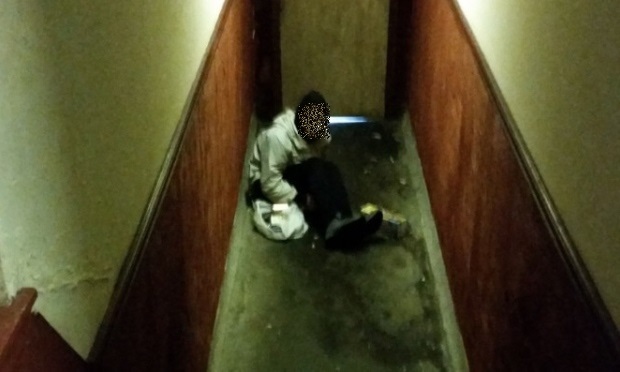 Broad daylight on a quiet afternoon, and in a Dundee close a solvent abuser lies slumped on the floor.
By his side is a bag of tinned goods he has just picked up from a local foodbank.
Despite being in an incoherent, barely conscious state he is seen to be inhaling lighter fluid.
This is the shocking scene that confronted a young woman as she descended the stairwell outside her own home.
The all too familiar incident comes in a week Dundee has been lauded for its world-beating academic achievements, in a year it has been recognised as a Unesco City of Design and in a decade witnessing an unprecedented transformation to the waterfront, spearheaded by the V&A museum.
As the Dudhope Street resident went to take her dog for a walk she came across the crumpled figure blocking her path.
He began shouting and she said she was intimidated and unable to understand him so she ran back upstairs to phone the police.
After calling the police, who asked her if she was able to get a description of the man and told her police would arrive 'as soon as they could', she returned downstairs to try to get the man to leave.
She said: "I shouted at him in an attempt to frighten him but I don't think he was with it enough to understand what I was saying.
"I told him he couldn't be there and the police were on their way but he just sat there, then he started inhaling the stuff right in front of me.
"It was awful. I shouted 'stop it, it's dangerous' but he didn't listen and I was too scared to get any closer.
"I told him I was taking his picture to give to the police but it didn't faze him at all.
"When he spoke his voice sent a shiver down my spine. It was unnaturally deep, almost like a robot. I think the solvent abuse had damaged his vocal cords."
Another woman, a landlord at another of the flats in the block, arrived as the police attended.
She said: "He was lying in a heap and his face was covered in what looked like snot.
"I have tried again and again to repair the door, at my own cost, but this keeps happening. I think I have repaired the lock at least six times this year.
"Often drunks and druggies break in and leave a mess, sometimes urinating and I have even had to pay the council to come out and disinfect the stairwell after someone defecated on the stairs."
The man had a shopping bag with coffee, tinned tomatoes and biscuits that an officer said he had received from a foodbank.
A resident reported he had been moved on from the Wellgate just 10 minutes previously after causing a disturbance.
Ewan Gurr from the Trussell Trust said it is vital to remember Dundee remains one of Scotland's most deprived cities, despite its current renaissance.
A spokeswoman for the Trussell Trust, which supports many foodbanks in Dundee, said drug users were in the minority of users of the emergency service but Christmas is a desperate time for so many.
She said: "There is a very low proportion of people who access the Dundee foodbanks that are prone to alcohol and substance misuse.
"It is unlikely this man got his items from the Dundee foodbank but at the Trussell Trust we operate on a referral system to identify those most in need.
"Who knows what his actual situation is and how he found himself in that place but Christmas is a really difficult time for a lot of people."
A police spokeswoman said officers attended a report of a man in a close but found "no evidence of criminality."
"We would request that when reporting an incident as much information is given as possible, including a description of any individuals.
"However, the main priority is that the persons reporting keep themselves safe and do not put themselves in any possible dangerous situations."
For more on this story, see Friday's Dundee edition of The Courier.