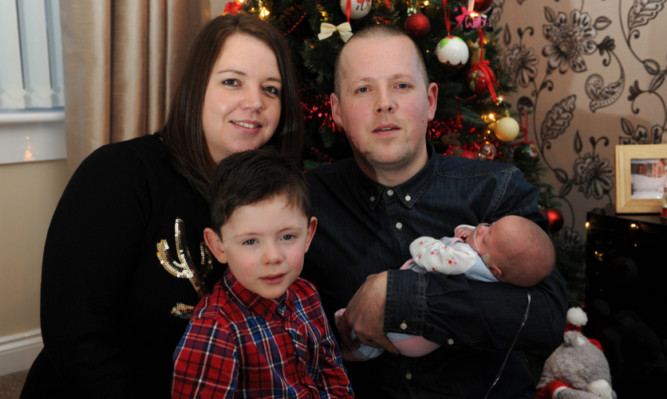 A Dundee family is having a double festive celebration this week to mark "the best Christmas present ever".
The Larmour family will be together on Christmas Day just weeks after fearing their tiny new baby Willow, born more than three months premature, would be lying hooked up to tubes in the neo-natal unit at Ninewells instead of being in the loving arms of her parents and big brother.
Four months after being born at 26 weeks and weighing just 1lb 3oz, tiny Willow Isabella Larmour has been allowed home from hospital to be with her parents Adam and Kerry and her brother Joel just in time for Christmas.
Remarkably, it is almost an exact repeat of Joel's own experience as he was born four years ago at just 27 weeks.
Willow was due to enter the world on November 30 but arrived more than three months early on August 29, sparking emergency action and life- saving treatment to ensure she would survive.
It was an anxious time for Kerry and Adam, who spent weeks watching helplessly as specialist nurses, midwives and doctors battled to keep the tiny tot alive.
Even now she is home she is on constant oxygen support and the couple have to keep a close watch on her.
Kerry said there were early indications Willow would not have a typical birth.
She said: "Because I had problems with Joel before I had regular scans and after the 20-week scan they said I was likely to have a premature baby as she was very small.
"I started to become ill and they were keeping a closer eye on us.
"I was having scans every two days. But I had started to feel better and I thought it would continue until nearer the time.
"Then I went for another routine scane and I could tell by the consultants' face that something wasn't right.
"They were doing lots of tests and they said my placenta had clotted so the blood supply wasn't getting through.
"I had a choice to make, have the baby now or wait over the weekend when there was a chance the baby could die. There was no more that my body could do."
Remarkably, the young couple had gone through an almost identical experience with Joel, who was also born three months premature but had even more severe problems.
"Five days after Joel got home, he stopped breathing and had to go back in.
"He was kept in over Christmas and had to have a heart operation."
Kerry added: "We didn't have a Christmas that year but thankfully all is good with him now.
"It was a one in three chance that I would have a normal baby and I wanted to try to have a normal birth. Joel was desperate for a brother or sister. When she came he said can I have a boy now?"
Adam spoke of the family's four months of pressure while Willow was kept under constant attention in hospital, at the same time trying to live their lives as normally as possible.
"It was the sheer stress of 16 weeks of being in the special care baby unit, it was just hard seeing her lying there every day," he said.
"She had to be rescuscitated twice in the first two months. We had consultants and crash teams all the time, we just didn't know what was happening, one second she was fine, the next there was a major emergency.
"Even right up to the day we got her home, we were always waiting for something to go wrong and she'll be on oxygen for the next six to 12 months.
"Considering the start she's had in life, Willow has done really well.
"We hoped she would get home for Christmas, that was my goal, but nobody could tell us whether she would or not. We've not been a family for so long and just to have my two kids under the same roof is just the best feeling ever.
"We've got a lot to thank the nurses and doctors for, they were absolutely wonderful throughout.
"And a lot of thanks go to our families and friends too, we couldn't have got through this without them. It's the best Christmas present ever."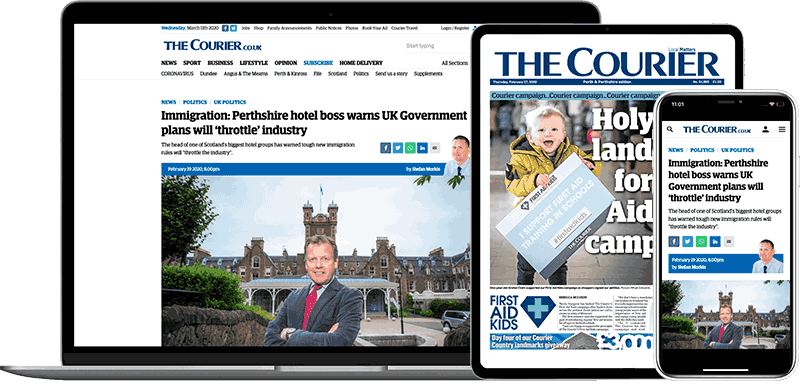 Help support quality local journalism … become a digital subscriber to The Courier
For as little as £5.99 a month you can access all of our content, including Premium articles.
Subscribe