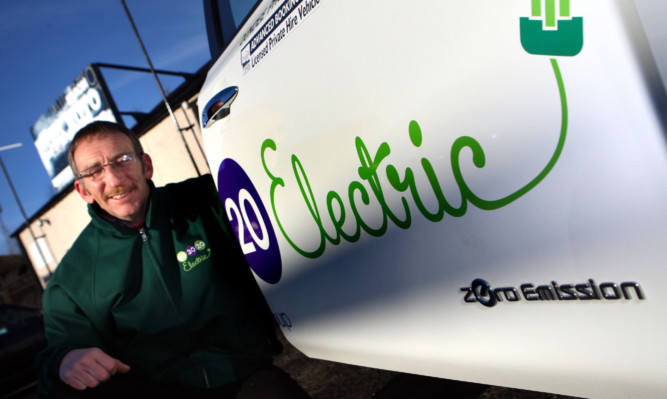 A flood of green vehicles will hit the streets of Dundee over the next 12 months in a move that could place the city at the forefront of an electric vehicle revolution.
Already home to more council-owned electric vehicles than any other local authority area in Britain, it will soon boast the largest green taxi fleet too.
Ten electric private hire taxis have already taken to the streets as a plan three years in the making comes to fruition for 203020 boss David Young.
And over the next 12 months he will gradually replace his entire 60-strong taxi fleet of wheelchair-friendly vehicles with electric cars.
The progress made and the success of his business decision is already being monitored by major taxi firms across Scotland including six of Edinburgh's biggest.
The conversion to electric also has the backing of the Scottish Government.
Mr Young hopes the move will save his firm significant sums of money in the long run, but he also hopes the decision will also have a huge impact upon quality of life in the city.
He believes that by removing more than 60 diesel vehicles from the city's streets there could be a marked improvement in air quality.
That would be particular welcome in identified hotspots such the Seagate, Lochee Road and Whitehall Street.
In January, a Friends of the Earth report revealed they were among the top 10 most polluted streets in the country.
"This is the first time that anyone in the UK has pledged to convert to an entire fleet of electric vehicles," said Mr Young.
"Things are happening on the continent, but the adoption of electric vehicles has been much slower in the UK.
"We hope to begin to change that and with our resources and those of the council combined, I think Dundee already boasts one of the highest concentrations of rapid chargers on the planet.
"We have signed up to an agreement with Dundee City Council that will enable us to use all their charging points while ours at Isla Street will be available for the public to use."
He continued: "I initially came at this from a business point of view but the environmental benefits are also very important to me.
"We have 10 vehicles already on the streets and over the next 12 months we will replace our entire fleet of 60 or so wheelchair-accessible taxis with new ENV 200 Nissan cars.
"I've spent the best part of three years researching this change, driving every single electric vehicle available, visiting factories and speaking to authorities on the technology.
"What has made the decision easier has been Dundee City Council's investment and commitment to electric vehicles.
"They have been pioneers and have established much of the infrastructure needed to make fuller use of the technology and that has enabled us to follow their lead."
CITY AT FOREFRONT OF GREEN REVOLUTION
Dundee City Council has been something of an electric car pioneer, putting green vehicles on the streets and introducing charging points across the city.
Its fleet now numbers almost 40 electric vehicles, more than double that of almost any other Scottish local authority area.
The city council said its efforts were part of a concerted drive to make Dundee more environmentally friendly.
In addition to reducing vehicle emissions, the move has also provided the infrastructure needed to convince others to follow suit.
Charging points are now available on streets and in car parks, such as that at Greenmarket in the city centre.
Environment convener Craig Melville said: "An increase in the usage of electric vehicles helps combat poor air quality issues across the city, which is beneficial to everyone.
"Hopefully more people will now be encouraged to go green and make the switch to electric vehicles."
New figures show that Scottish local authorities are well ahead of their UK counterparts when it comes to adopting electric vehicles.
Four of the five councils who have the highest number of ultra-low carbon vehicles are located in Scotland the others being South Lanarkshire, City of Glasgow and Fife.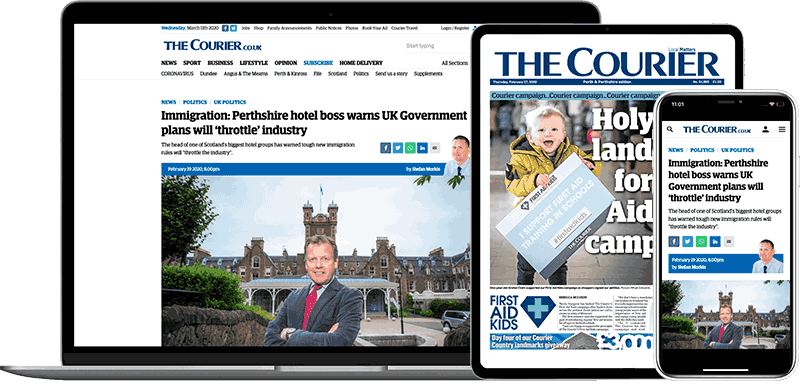 Help support quality local journalism … become a digital subscriber to The Courier
For as little as £5.99 a month you can access all of our content, including Premium articles.
Subscribe