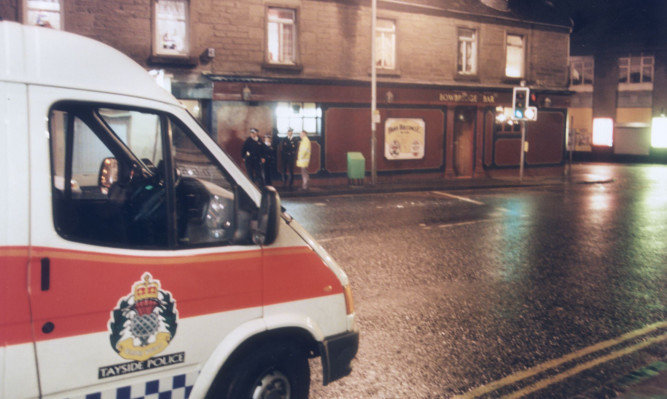 A murderer who was released early from prison eight months ago is back behind bars after rowing with social workers over visits to his mother.
Owen Alexander Kerr, 33, murdered Dundee man Andrew Tosh, stabbing him twice in the chest, outside the Bowbridge Bar in Hilltown in October 1998.
Just 19 at the time, he was ordered to be detained in a young offenders' institution before being transferred to an adult prison at the age of 21.
He was released from his sentence eight months ago. A condition of his release on licence was that he be supervised for the rest of his life.
Dundee Sheriff Court heard that he committed a breach of the peace while on an appointment at the social work department's Friarfield House on Monday.
Defence solicitor Gary Foulis asked Sheriff Bovey to consider the matter as a "one-off" and appealed for the sheriff to allow his supervision to continue with a deferral of sentence for three months to allow him to demonstrate good behaviour.
The sheriff said his behaviour that day left him with little option but to impose a custodial sentence, jailing him for two months. The parole board will now meet to consider if Kerr should be ordered back to prison to complete the unexpired portion of his life sentence.
Depute fiscal Kirsten Thomson told the court Kerr's temper flared when the supervising officers questioned his conduct on previous occasions and warned him about his behaviour.
She said: "He told one of them: 'My Dad's coming to get you.' Asked what he meant by that, the accused replied: 'Coming to scare you'.
"The supervising officer asked him: 'Is this an attempt to intimidate me?' and the accused shrugged his shoulders."
Ms Thomson said the accused then said his mother was in the building and asked if she could join the meeting and one of the social workers walked towards the door.
As he did so, the fiscal said Kerr made a rude gesture with his hand and he was challenged about his behaviour.
"He said 'shut up' and was told to leave," the fiscal said, at which point the accused kicked a door.
Members of staff felt scared and threatened by his behaviour, she said, and police were called.
Solicitor Gary Foulis said Kerr had gone voluntarily to the police the day after the incident and had pleaded guilty at the first opportunity.
He said there was a significant background but stressed Kerr was "thoroughly ashamed" of his actions and appreciated they were wrong and inappropriate.
He said: "He is doing well in his supervision and his once-weekly appointments at the social work department have been reduced to once a fortnight.
"He also has significant support from his family, he lives with his father and he visits his mother, who is also very supportive.
"The supervisors raised problems with him visiting his mother, however, she remains supportive of him and Mr Kerr felt angry about how the discussions were going with the staff.
"His mother had attended at the building with him and he asked if she could attend the meeting. She had no difficulties with him. He didn't swear, however, he admits he kicked the door and made a rude hand gesture."
Mr Foulis said this "one-off" incident aside, Kerr had been complying with the terms of his supervision but was under a significant amount of stress, having had threats made to him through social media.
He said: "He has taken the appropriate action and has liaised with a very senior officer with Police Scotland over it appropriate action has been taken.
"He has no issues with drugs or alcohol and is actively seeking employment and has very robust support through his family and through supervision. This man has spent a night in custody and has learned his lesson. I have known and dealt with him for many years and I have no reason to believe this was other than a one-off."
Mr Foulis told the sheriff: "I would ask your lordship to allow him to continue with the supervision and perhaps defer sentence for three months to monitor his progress with that."
Mr Foulis added if the sheriff was not willing to defer sentence for good behaviour, then he would be asking him to order a social work report and allow Kerr bail.
Sheriff Bovey said: "It is essential that the courts protect those who carry out their work, this breach reduces my options considerably and I'm of the opinion that a custodial sentence is inevitable."
He told Kerr that he would reduce the sentence from three months to two months in jail to reflect his early guilty plea.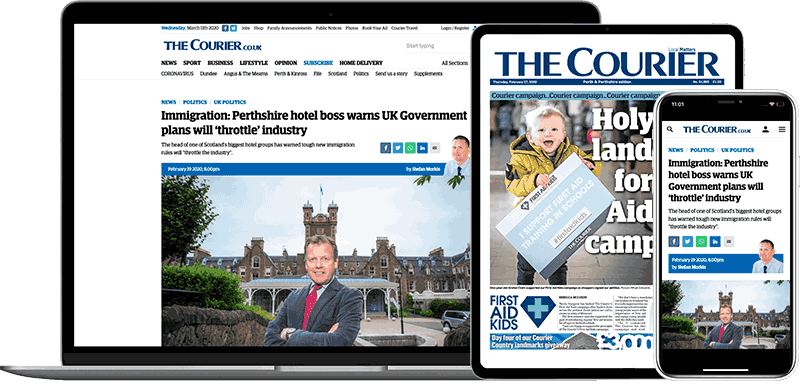 Help support quality local journalism … become a digital subscriber to The Courier
For as little as £5.99 a month you can access all of our content, including Premium articles.
Subscribe