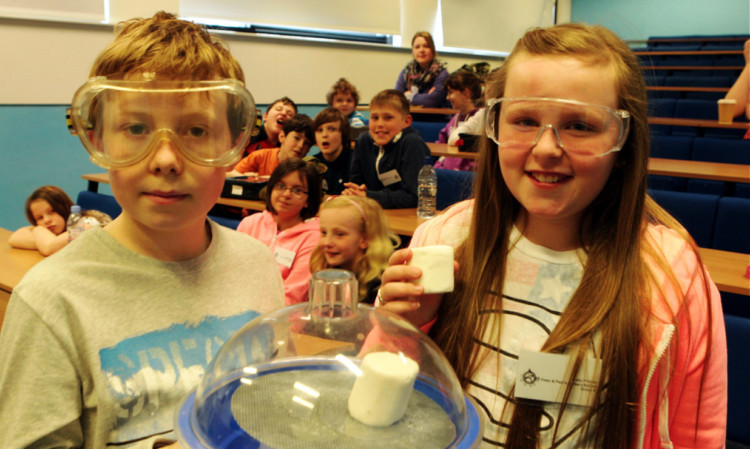 Tayside Space School returned to Abertay University on Saturday to the delight of Dundee's future Neil Armstrongs.
Back in March, the aspiring astronauts made their first foray into the world of space exploration when they learnt about the planets in our solar system and the stars and constellations that are visible in the night sky.
But on Saturday the Space School took on a decidedly culinary flavour as cadets got to sample ice cream made using liquid nitrogen and watch marshmallows explode, learning about the food astronauts eat and what would happen to their bodies if they went into space without a space suit.
They also looked at the history of human exploration as they learnt about Captain Scott's voyages of discovery to the Antarctic, which were the Apollo Moon missions of their day.
Discovery Point education officer Brian Kelly said: "In the early 20th Century Captain Scott's daring journeys into the unknown were as dramatic as the later Apollo Moon missions very little was known about the destination, and the explorers had to survive with little or no contact with the outside world.
"Even today, the Antarctic continent remains one of the most hostile environments on Earth, and the scientific research stations there may provide the model for those that will be built by future colonists on the planet Mars."
Mr Kelly told the cadets about living and working in polar regions comparing modern clothing and diet with that available in Scott's day.
The children also discovered more about the science being carried out in the Antarctic today. Tayside Space School is run by Abertay University in conjunction with Dundee City Council.
Further events will take place in May and June with Space School culminating in a week-long summer school at Abertay in July.