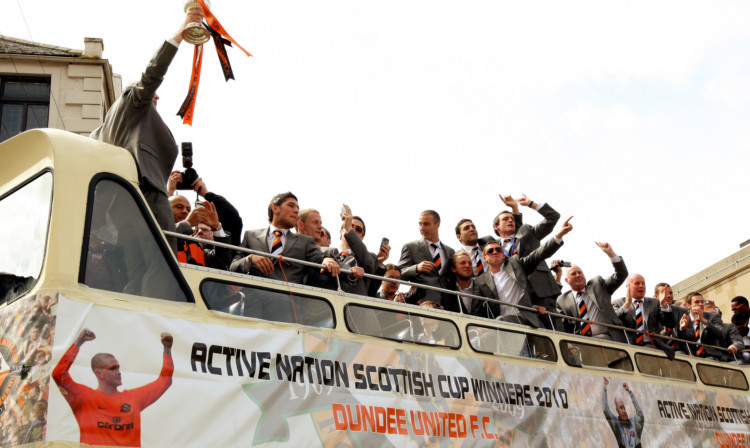 People in Dundee will have the chance to give Dundee United a rousing return home on Sunday if they win the Scottish Cup on Saturday.
If the team beat St Johnstone in the final of the William Hill Scottish Cup, there will be a celebration in the City Square followed by a similar event at Tannadice.
Supporters and well-wishers will be able to choose where they want to see the trophy and the arrangements will allow as many people as possible to join in the hoped for celebrations. People are advised to come early to both venues.
Lord Provost Bob Duncan said: "I would like to take this opportunity to wish Dundee United every success in the Scottish Cup Final on Saturday.
"We are extremely proud of the team's efforts in reaching the final and we are all hoping that they can bring the cup back to Dundee.
"The club has already brought great honour to the city and I would like to send my best wishes to the team ahead of the final."
Dundee United director Derek Robertson said: "We'd all like to stress that these are contingency arrangements only and that we're taking nothing for granted nor making any assumptions about the result.
"Obviously we're all hoping that the cup will come back to Dundee and, in view of the amount of planning and external bodies involved, it is necessary to have these contingency plans in place well ahead of the time. I'm sure similar plans are also in place in Perth."
The proposed programme for Sunday is:
12.00 noon Pre event entertainment in the city centre
1.00pm Arrival of the team at City Square via Reform Street.
1.10pm The Lord Provost will welcome the team and officials and the trophy will be presented to supporters from the City Chambers balcony.
2.15pm An open top bus will take the team to Tannadice via Victoria Road.
2.30pm The bus will arrive at Tannadice and the trophy will be paraded around the ground.
Access to City Square will be stewarded and numbers will be restricted on safety grounds. An area for wheelchair users will be provided and first aid and lost children facilities will be available
Access to Tannadice will be controlled by entry via the turnstiles which will be open from 1.30pm. Supporters are urged to arrive early to ensure entry as it may be necessary to close turnstiles if capacity restrictions are met in some, or all, of the areas.