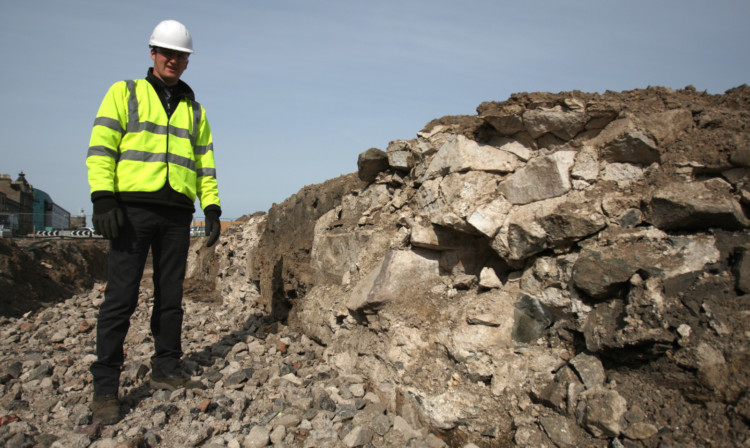 A precious piece of Dundee's past has been uncovered in the quest to give the city a bright future.
Excavations for the waterfront redevelopment have unearthed the foundations of the Royal Arch.
The monument completed in 1852 to mark a visit by Queen Victoria to Dundee was demolished in 1964 as it stood in the way of the Tay Road Bridge landfall development.
Its loss was lamented by Dundonians and historians who regretted the fine example of city architecture should be turned to rubble in the name of progress.
Picture gallery: Dundee's Royal Arch
The stones that formed the three-span archway guarding the pier between Earl Grey Dock and King William IV Dock were used as harbour landfill in the transformation of the waterfront to a road network 50 years ago.
The current redevelopment of the area has entailed the excavation of a stretch of 1960s infill south of Shore Terrace behind the Caird Hall.
The scooping out of many tonnes of soil and rubble has revealed four solid mounds of cemented stonework at the location of the bases of the arch's four towers.
Dundee City Council confirmed they are the foundations of the Royal Arch unearthed during work at the Waterfront.
Innes Duffus, archivist for the Nines Trade and Dundee Guildry, said: "It is rare for evidence of old Dundee to come to the surface and it's important that the Royal Arch's foundations are recorded in some way.
"They should be properly photographed and logged for posterity before they are covered up again so that future generations of Dundonians can know about the city's history."
He added: "It was a much loved landmark and stood out on its own. There used to be fairs held down there and it was a popular meeting place."
The Royal Arch's foundations are not the first historically-significant discovery to be unearthed at the waterfront.
A section of narrow gauge railway was also found in earthworks and Mr Duffus was able to photograph it before it was covered again.