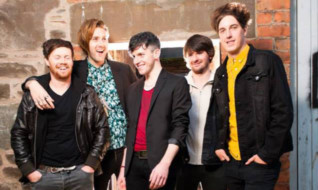 A young band from Dundee have been plucked from relative obscurity to support emo rock giants Placebo on their eight-date arena tour of Russia.
Unsigned act the Mirror Trap, who have self-released two albums, have joined their multi-million record selling counterparts on their summer tour for 13 days.
The trip will take the Dundonians across three time zones and as far as Siberia, where they will play a gig in a venue called the Ice Palace.
The five-piece, who coincidentally wrote their first song about St Petersburg, were personally selected to support Placebo after singer Brian Molko made a special trip to Dundee to check them out last year.
All massive fans of Placebo, the opportunity is something of a schoolboy dream for the Dundee band. Lead singer Gary Moore said: "It feels amazing and completely mental to be asked to tour the world's biggest country with one of the world's biggest bands.
"This is such an alien sort of opportunity for us, so I really can't imagine what sort of things will come from it.
"Obviously I hope we get a ton of new fans and become international super-mega stars… but in reality I'd say we are just going to play every show at full throttle and try and meet as many new and exciting people as possible.
"If we can come home feeling that we have given every ounce of ourselves then I will be happy; if some glorious opportunities arise from it then it will be a bonus."
The latest chapter in this fairytale follows a chance encounter two years ago with former Dundee and Dundee United footballer Lee Wilkie, who worked for the band's management company.
After being charmed by the band and impressed by their ambition, Wilkie made a few introductions, which led to the Mirror Trap being asked to support Placebo at the HMV Picture House in Edinburgh in 2012. The sell-out was followed by a charity gig at the 02 Academy in Leeds.
After the English date, during a trip "home" to Dundee, Placebo frontman Brian Molko surprised even the band by turning up at a midweek gig in a tiny venue. Hiding at the back of Non-Zero's, the singer slipped in and out without anyone noticing and his management team have been keeping a close eye on the Mirror Trap ever since.
The offer of the dream support slot in an arena tour across Russia arrived in Dundee earlier this year but has been kept a closely guarded secret.
Gary continued: "In November, we played a couple of shows in Edinburgh and Glasgow, in front of about nine people combined.
"We felt pretty low after that but have always believed whole-heartedly in what we do, so we were certain that better things would come.
"Then, this happened. I guess this is one of the biggest things to happen to a Dundee band of our sort of status, in that we are complete nobodies, with rubbish jobs and no money or standing within the music industry.
The band began their adventure last night, heading first to Aberdeen for their 5.30am flight to Frankfurt. They will then travel to Moscow before their first mammoth 8-hour internal flight across Russia to Krasnoyarsk for the first show.