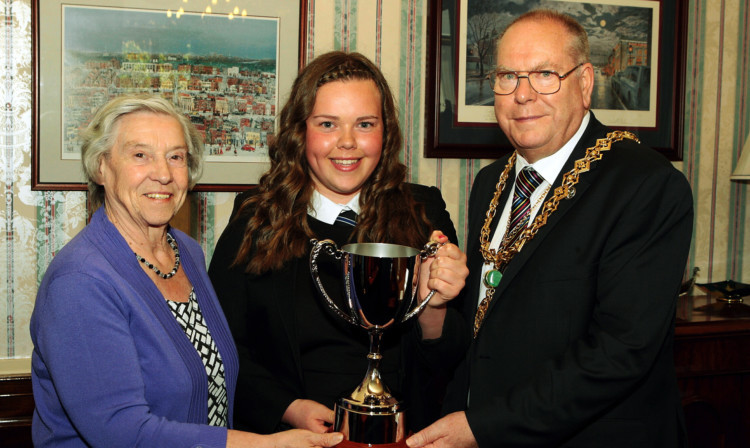 A day in the life of a young mill worker inspired a teenage author's winning entry to a charity short story competition.
Creative writers from Dundee schools came together for a civic celebration and prize-giving ceremony at Dundee City Chambers on Wednesday.
The City of Dundee Burgess Charity, established in 2011 by former lord provost John Letford, organised the short story competition for the first time this year.
Pupils from S3 classes were asked to submit stories with Dundee as the theme and the judges said they had a tough time deliberating over the 46 entries.
Erin Findlay of St John's High School claimed the trophy for her school with her story, A Day in the Mill, inspired by school trips to the jute mills.
The two runners-up were Last Days, by Olivia Adam, also of St John's, and Ticking Over by Euan Scanlan of Dundee High School.
Read the winning stories below, and see Thursday's Dundee edition of The Courier for a full report on the prize ceremony.WINNER: A Day in the Mill, by Erin FindlayEh woke up this morning at fower therty shairp. Eh leukit oot meh windae engrossed in the emerging beaming sun. It wis the stairt o a bonnie simmer's day… too bad eh haed tae go tae work. Eh am ten years auld, meh name is Catherine and eh bidein a ane bedroom hoose wi meh mither, faither, meh sister, Alice and meh brither, Albert – wha are twins and are baith fev. Wi share a wattie wi oor fower neebur.
Mother and father were at work so I had to get the twins up and ready. I bundled on my usual clothes and drew the curtains open. Alice got up no bother, but there was still Albert who as usual, pulled the blanket over his head protecting his eyes from the bright hot light streaming through the window. He pleaded with me for five more minutes but he didn't know what I knew. We would have to leave for five thirty to get there for six. After numerous arguments we left the house at twenty to six. My heart dropped and my chest tightened, making me unable to breath. We reached Lochee High Street. It was so peaceful. There was nobody around apart from a few pigeons. The tram lines distinctively lay awaiting for the heavy, packed trams to run across them throughout the day. Just now you could hear a pin drop, but this afternoon it would be as noisy as a zoo. We passed Bright Street and after seeing the clock on Lochee Old and St Luke's church strike five fifty, we knew we were going to have to hurry.
Three minutes past six we reached the Stack Mill. When we got to our section the manager of weaving, William was waiting patiently for all the late corners to dock their pay. He smugly said to us, "Why are you late?" I argued, "We are three minutes late, surely you could let us off?" Alice and Albert looked at him with their big, bright, blue eyes. "OK, OK just for today. If it happens again I WILL quarter your pay!" replied William. We thanked him for being so generous then scurried over to mum. She had been watching us being quizzed and had such a relieved look on her face. We were paid very little already but it helped. If William was in a bad mood he probably would have kept us after eight thirty and we would have to miss school. Mum made sure Alice had her hair tied up and even put a little elastic band in Albert's hair. The twins had the most unsafe job. They had to crawl under the carding machines and had to untangle the machines if they were jammed as they were the smallest and the cheapest. I hated that job when I had previously worked on it. You got so claustrophobic and it was so noisy! My hearing will never be the same again. I now work on the weaving machine with mum. Although I'm not very good at it, I do try my best.
The clock struck 8.30am. It was time for school. I didn't know how I was going to manage school. My eyes were closing together after my early morning start at the horrendous mill. Still, had been doing this same routine for five years now. We walked down Camperdown Street along with the crowds of other children from the mills, all looking exhausted too. We walked up St Mary's Lane and made sure Albert got into the boys' playground okay. Then Alice and I walked through the church yard, down Grays' Lane and into the girls' playground. I said goodbye to Alice and then went to my class.
It was midday. School was finished, but my day wasn't. I met the twins then it was back to the mill for us. We were already late so we had to get straight to work. Mum wasn't there so our neighbour Effie helped me with the weaving. She told me if you sung it made it easier and all the others agreed so we gave it a go:
"Oh dear me the mills gaein fast,
And the pair wee shifters canna get nae rest;
Shiftin bobbins coorse and fine,
They fairly mak ye wark or your ten and nine."
Arrrrrggggghhhhh! We all jumped to a halt. I watched in horror as I saw Alice being tangled up in the machinery. Her hair had been knotted in the machine… Oh why hadn't I remembered to tie her hair up! Albert was screaming and I just stood there in shock, not sure what to do. William had ran to turn off the power and Effie ran to get Alice. I shuddered. I knew then that my life would never be the same again…RUNNER-UP: Last Days, by Olivia AdamI had noticed her before. She stayed in my street in the close opposite mine. But that night at 'The Empress Ballroom', that's when I really noticed her. Her name was Audrey. She was eighteen and I was nineteen. She wore a powder blue halter-neck dress and sat in the corner of the hall most of the night, laughing and watching her friends dancing. I'd been staring at her the whole night and eventually plucked up the courage to ask her to dance. She looked up at me with her sparkly green eyes and smiled. She stood up, smoothed down the pleats of her dress, before taking my hand and leading me to the dance floor. The music was played softly when she asked my name. "Billy," I replied.
"I'm Audrey," she smiled.
After the dance we went outside. It was a cold and crisp October night so I gave her my jacket, which I had saved for months to buy. Suddenly she asked the time. I took out my pocket watch.
"Ten to ten," I replied.
"I need to be home by ten!" she yelled as she started to run down the dark, cobbled street.
"Audrey!" I shouted, much to my surprise.
She stopped in her tracks. "I can walk you home," I said shyly. "I live in the same street."
"I thought I recognised you!" she giggled.
Then a look of panic appeared on her face. "I've left my coat in the cloakroom at 'The Empress'!" she said. "It's not even mine, it's my sister's, and she doesn't know I've borrowed it," she whimpered. I tried to reassure her. I wanted to protect her. "It'll be alright," I soothed, brushing her hair back and pulling the lapels of my jacket up around her neck. "You can collect it another time," I murmured. I took her hand and pulled her quickly along the street. I knew that we had to keep running as it was two minutes to ten. When we reached her close she handed me my jacket, gave me a quick peck on the cheek and disappeared. I was left feeling stunned and overwhelmed. It felt like I had known her my entire life. A soft sigh escaped from my lips and rose like a cloud into the glistening night sky. I was well and truly smitten.
The whole of the next day, all I could think about was Audrey. She played on my mind like the music we had danced to the evening before: over and over and over again, birling around, faster and faster and faster. That evening I stole some of my father's 'Bryl Cream' to smooth my hair and polished my shoes so I could see my face in them clearly (although this wasn't exactly a chore as I had had plenty of practise in the army). I hated being a soldier so much and the thought of going back in two days' time was killing me. I made my way back to 'The Empress' that night hoping that Audrey would be there. No such luck, She never appeared.
The next morning I was up early. I couldn't sleep. I went to Wallace's Bakery for the morning rolls. Standing in the long queue, a familiar sweet scent jolted me back to reality. It was the same smell that lingered on my jacket. As I turned round, there she was, oblivious to me. I waited outside. The air was fresh and the cold nipped at my face. Rehearsing what I was going to say to her I was interrupted.
"Billy! How are you?" Audrey was there in front of me. As we walked home she told me that that night at 'The Empress Ballroom' had been her first time there. She had borrowed the powder blue dress from her friend and the coat from her sister, but she'd felt like a Hollywood movie star. It felt like fate had brought us together. I wanted to be forever by her side and was desperate to spend my last day in Dundee with her. That night we went to 'The Odeon' to see her favourite star; Clarke Gable.
The next morning, Audrey was standing at the bottom of my close. She knew my leave was over, that I must return
"I have to catch the Fifie, across the Tay to Newport," I said.
"Don't leave," she said gripping my hand tightly.
"Come with me, across to Newport," I grinned.
"I can't. I'm due to start my shift at the mill Well, I suppose I can. I've never been across the river before."
Later, I walked away from her to my friends in uniform, turned round and shouted, "Will you wait for me?"
"Yes, you're due me a dance remember!" came her reply.RUNNER-UP: Ticking Over, by Euan Scanlan"Tick Tack Tick Tack"
It was another Friday. The only sound Robert could hear was the gentle ticking from the clock above the fireplace. It was the same every day; Robert sat, waiting and waiting for his wife to come back from Baxter's mill. It had been like this since the boatyard closed. It wasn't that he didn't want to find a job but that he couldn't. His reverie was brought to an end by the sound of heavy footsteps approaching the door. There was a loud CLACK as the latch released and the woman, the breadwinner, Robert's wife, entered the small one room flat. She walked swiftly over to the table and looked down at her husband. Without a word she threw a handful of coins onto the table and turned her back to him, already busying herself at the stove. Robert quickly pocketed the money and, without a glance back, left the flat.
He hurried across the cobbled roads towards the Small World. His footsteps echoing up the empty streets. He paused at the door and took a deep breath, then his first smile of the week crossed his face as he entered the pub. Here he, and the other 'kettle boilers', could relax and feel like they did when they were the moneymakers, when they could feel like 'real' men. Laughter, clinking glasses and deep voices emerged from the tobacco-smoke filled room. 'A pint of the usual, Robert?' came a voice from behind the bar. 'Aye, that'll be grand.' And so began his night of freedom: he and his cronies putting the world to rights, sharing memories of their working days, telling jokes, sometimes even having a sing song. This was the life…and not a woman in sight, not in a public bar. But after hours of good times, at 10 when the pub closed, it had to come to an end.
The second the door closed the smile Robert had held all night vanished. The worst part of every Friday wasn't waiting for his wife to come home, nor the brief few seconds he was forced to spend in the same room as her waiting for her handout. It was when he had to walk back alone to the tenement, as the cold night wind, which didn't seem to notice his thick jacket, chilled him to the bone and the heavy industrial air invaded his nostrils.
When he got home his wife was in bed, like normal. When he got to bed she was already asleep, like normal. And when he woke she had already left for work, just like normal. When she got back they didn't talk and they barely looked at each other, the only sounds came from the clicking of her knitting needles and the ticking of the clock. The only relief came from the pub.
Day after day passed in the same sad, repetitive way until Friday finally arrived again. He awoke, alone as normal, and took his seat at the table. Just a few more hours and he could leave! After a long week of boredom and silence, he could finally go back to the Small World. He listened as heavy footsteps approached the door and there was a CLACK as the latch released. His wife walked over and looked down at him but there was no money in her hand and a horribly grim look in her eye as she spoke only four words: 'The mill has closed."
It was another Friday, but Robert barely noticed. Life was now the same every day. There was never any relief. The only sound he could hear as he sat across from his wife, was the gentle ticking of the clock above the fireplace.