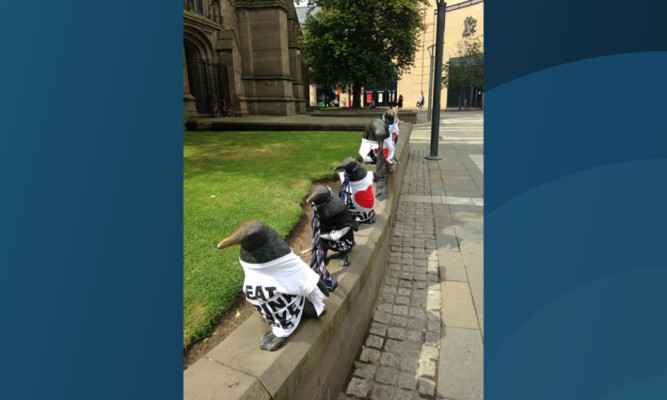 Dundee's tailor-made penguins have been stepping out in style thanks to the efforts of a mystery fashionista.
The city centre statues at the Overgate have been snappily dressed in ties and bright T-shirts over the last couple of days.
The bizarre dress choices come after several weeks of the Antarctic birds sporting a range of different clothing.
It all started when one of the statues was spotted wearing a red jumper. Then, in the days that followed, two more of the penguins were spotted in matching blue cardigans.However, the person behind the trend still remains at large.
A mysterious man has been linked to the penguins' clothing range, after being spotted adding a polo shirt to the group in previous weeks.
Caroline Lindsay came across the fivesome, dressed in T-shirts and neck ties, on Sunday afternoon.
However, when she passed again on Monday, four of the penguins had been robbed of their clothes.
She said: "Lots of people were taking pictures of them and posing with them. It is really cute.
"I had only seen the pictures in The Courier of them wearing cardigans before. I am sure they will get new clothes soon."
Alison Nicoll, 45, also thought the penguins showed a lighter side to Dundee, and hopes people keep adding to the statues' wardrobe.
"I think it's a bit of good fun, we are utilising the landmarks that we have here," she said.
Baffled locals have also speculated on who may be behind the continued p-p-pestering of the penguins.
Sandy Pullar, 70, reckons it could be one of the city's numerous students.
He said: "I imagine it's someone young, probably a student, they have a really good imagination for this kind of thing."
Faizan Ajha, 28, thinks the move could be part of some kind of project.
He said: "It could be a group of artists behind this. They could be backing equality, or some kind of animal rights group."
Are you the mystery penguin dresser? Or do you know who it is? Call us on 01382 575267.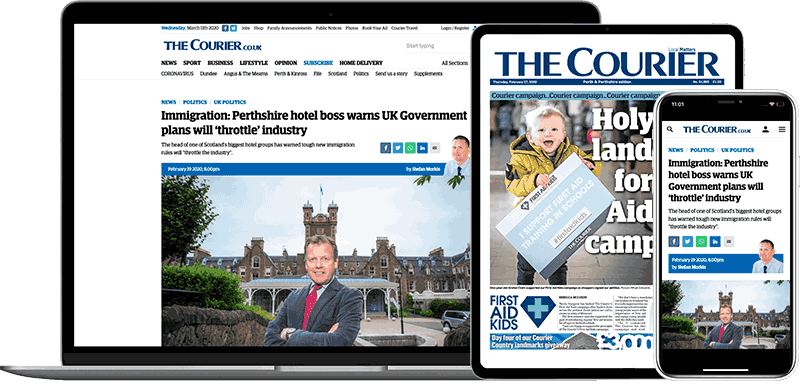 Help support quality local journalism … become a digital subscriber to The Courier
For as little as £5.99 a month you can access all of our content, including Premium articles.
Subscribe