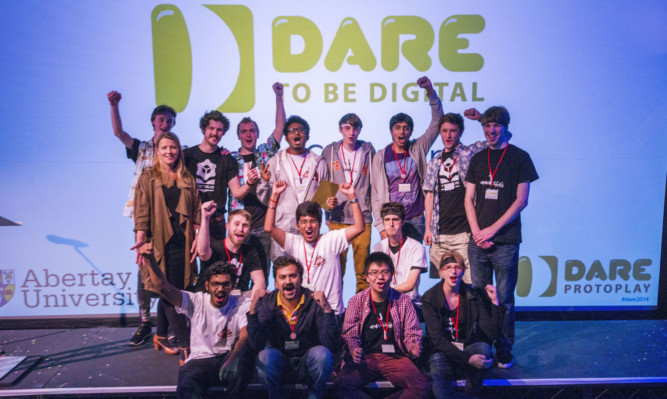 Dare Protoplay, Scotland's biggest video games festival, closed in Dundee with the unveiling of three nominees for the Bafta Ones to Watch award.
The games were the winners of Dare to be Digital, the international game design competition for students run annually by Abertay University.
The four-day event in Dundee City Square and Caird Hall provides an economic boost for many city businesses and helps to cement Dundee's reputation as a centre of excellence in computer games teaching and development.
Each summer, 15 teams of five students are picked to develop a new game in just eight weeks before facing the scrutiny of thousands of members of the public.
The three winning teams go forward to the Bafta awards.
More than 13,000 people visited the festival and teams from China, India, Malta and the USA travelled to Dundee for the Dare to be Digital student competition.
The winners were samurai stealth game Chambara; action game Don't Walk: Run, where three players compete as a film's actors escaping the wrath of its director; and Sagittarius, where you use the Oculus Rift virtual reality headset to aim a crossbow from a moving chariot.
Kevin Wong from Overly Kinetic, the creators of Chambara, said: "We're all really honoured and really excited to get a Bafta nomination, and to see all the children come to our booth and enjoy the game so much. That's what we live for."
Vivek Deshpande from Too Mainstream, the creators of Sagittarius, said: "We're elated, we really didn't think we'd win. All the Dare to be Digital games are incredible.
"After this, we'll go back to India and develop the game further, and are hoping to release it in the near future."
Niall Taylor from Torque, the creators of Don't Walk: Run, said: "This is amazing, I don't believe it we nearly fell off our chairs. Everything has completely changed in our lives in the last eight weeks."
The three main awards were again sponsored by PlayStationFirst, the academic development programme of Sony Computer Entertainment Europe.
The winner of the Bafta Ones to Watch award will be announced early next year at the British Academy Games Awards in London.
Luke Savage, academic development manager at PlayStationFirst, said: "Dare to be Digital is a terrific showcase of the next generation of game developers."