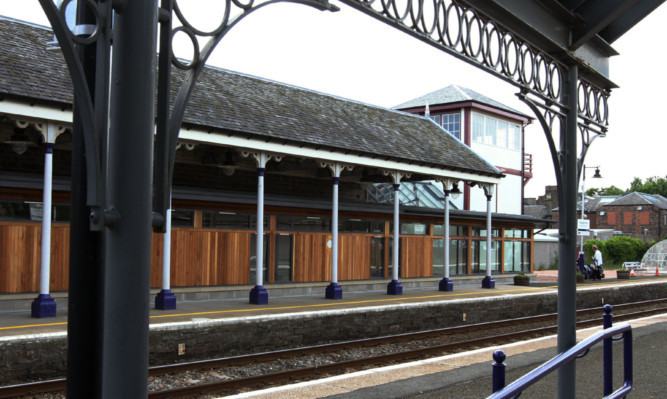 A prominent Broughty Ferry restaurant site with unrivalled transport connections is still awaiting a tenant more than two years after being put on the market.
The proposed eaterie was created at Broughty Ferry railway station as part of a £650,000 redevelopment of the site.
With trains stopping outside, a car park next door and a major bus route alongside, access for customers is not a problem.
But no restaurateur has so far stepped forward with a serious interest in the property.
In 2012 rumours were rife in Broughty Ferry that Pizza Express would perhaps be the most appropriate tenants, but that story proved to be half-baked.
Site owners Network Rail said that cost may be an issue for the building still sitting empty but they are prepared to be flexible in securing the right tenant.
A spokesman said: "The building has been attractively finished with wood panelling and other features, but that is only on the outside.
"The inside is basically a shell and fitting it out as a restaurant with dining and kitchen facilities would be a considerable investment probably costing six figures," he said.
"We have not fitted it out as some operators prefer to fit out their restaurants to their own theme or requirements.
"We certainly could fit it out if this was desired but we would have to reflect the fitting out cost in the rental charge.
"Equally, we could lease the property to a restaurateur as a shell and leave them to fit it out, and that would be reflected in the the rental charge too.
"We are prepared to be flexible depending on the rental arrangements and needs of the customer."
Broughty Ferry Labour councillor Laurie Bidwell said it is unfortunate the station restaurant building is still sitting empty.
"Broughty Ferry has many restaurants and cafs, and I would have thought the station would be a good place for another one," he said.
"I welcome the fact that Network Rail are prepared to be flexible in attracting a tenant and hope that their efforts will be successful."
Category A listed Broughty station is the oldest in Scotland still in use with a history dating to 1838.
After years in decline including problems with the level crossing and the frequently waterloggd pedestrian underpass, it has undergone a revival marked by an increase in train services.