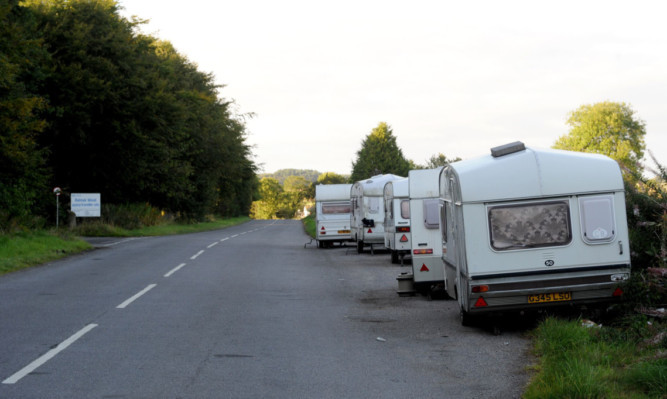 Travellers have established an illegal encampment just metres from a "half empty" site designed specifically to house them.
Five caravans have parked in a layby opposite the Balmuir Wood Traveller site at Tealing, which is not fully occupied.
Gas canisters and other detritus are also scattered in the layby and locals are concerned as it is often used by bus companies to collect and drop off schoolchildren.
One resident, who did not wish to be named for fear of retribution, said: "For the past week now four caravans have been parked in a layby opposite the entrance to the (Balmuir Wood) site on old Forfar road.
"This is public, council property. A fifth caravan appeared on Saturday night.
"The site is currently half empty and there is no reason for them to be parked there. I have also witnessed the residents of these off-site caravans entering the site on foot obviously to use the facilities, which they won't be paying for," she added.
The Balmuir Wood site is operated by Dundee City Council, but the area surrounding it is part of Angus Council's jurisdiction.
The resident added: "Angus Council has been contacted on four separate occasions and will provide no answers to this ongoing saga.
"Dundee City Council want nothing to do with it as it is not on their land, they say."
Schoolchildren could also suffer if the problem is not resolved, the resident believes.
"The layby is used by school buses and school taxis to collect children. The buses are now having to stop at the side of the road to collect and drop off children.
"It's only matter of time before a child or a resident of one of these caravans is knocked down.
"The caravans are parked on a council-owned public road and footpath, and home owners' property.
"The caravans are surrounded by junk and gas canisters," she added.
A Dundee City Council spokesman said: "At Balmuir Wood, Travellers can rent a pitch on a long-term basis or stay for only a few weeks.
"The council will give Travellers advice and information when they sign a tenancy agreement. We will explain the site rules, what we are responsible for and what tenants are expected to do."
An Angus Council spokesman said: "We are aware of this encampment and will continue to monitor the situation in line with our policies and procedures."