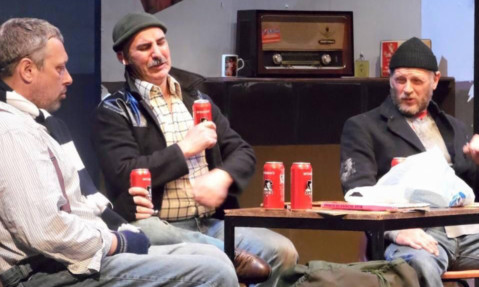 Following on from his hugely successful play The Berries, Gary Robertson's The Scaffies is a grittier, if no less affectionate, trip back in time.
Set in 1978, the Dundee Rep production follows a group of binmen on their booze-for-breakfast-fuelled adventures through the work canteen, pub and the city's streets.
This is a confident production from a strong ensemble cast, with special praise for Robertson as Tam and Scott Petrie as Andy the gaffer, who remarkably makes his acting debut here.
Veterans Eddie and Frankie share eye-watering tales from the war, while new recruit Donnie tries to extol the virtues of punk to his sceptical workmates as the Winter of Discontent looms.
Throw in some absolute filth from long-suffering colleague Gerry and his fellow scaffies and you have another instant Dundee theatre favourite, that's sure to enjoy repeated runs like its predecessor.
Robertson's oary dialect script crackles throughout, with nods to city landmarks and not-for-the-faint-hearted anecdotes drawing huge laughs from the sell-out crowd.
Heading down the stairs after the curtain closed, one audience member turned to another and said: "That was bra', was it?". After an evening in the company of Tam and co, I couldn't have summed it up better.