 A 75-year-old Dundee woman screamed in terror after a bare-chested man high on drugs battered at her front door with a large stone.
Dundee Sheriff Court heard the culprit, Daniel Montague, 23, then wandered uninvited into the home of another pensioner last week at Gilmour Place.
Retired nurse Lillian Kean said: "I was busy singing away to myself doing my washing at the time when all of a sudden I heard this thump I thought 'what in the heavens is going on here'?
"I saw him at the door and I phoned the police straight away and I must admit they were very good.
"I just stood in the hallway and screamed at him to go away, but it was like I wasn't saying anything at all, the words weren't registering. He was hammering at the door, it was very frightening. I'm worried about any noises I hear now, but I'm a very independent person and I've got to get through this."
Fiscal depute Kirsten Thomson said: "One resident, a 75-year-old lady, heard a loud bang to her front door. She looked out of the window and saw the accused standing at her door with a large stone in his hand. She was extremely frightened and went into the hallway and could see him standing at the door. He continued to bang on the door repeatedly. She was clearly terrified by this as she started to scream."
The court heard that around 4pm, a second woman, aged 76, had to usher Montague out of her home in the cul-de-sac after he wandered in.
Montague, of Pitalpin Court, admitted behaving in a threatening or abusive manner on June 11. Sentence was deferred until July 7.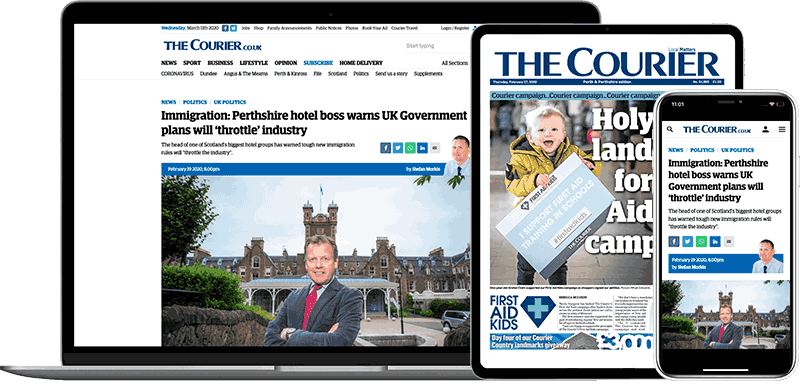 Help support quality local journalism … become a digital subscriber to The Courier
For as little as £5.99 a month you can access all of our content, including Premium articles.
Subscribe