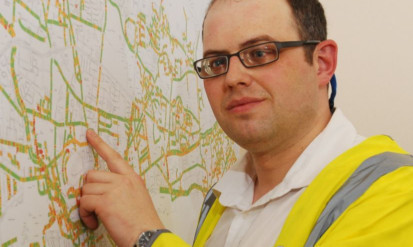 A partially-sighted engineer with Dundee City Council is helping to dispel myths about what people with sight loss can and can't do.
Mark Wilson has worked with the council's city development department for the past seven years as an assistant engineer, despite being severely short-sighted since birth.
"I have high myopia, with complicating conditions such as nystagmus and astigmatism," he explains in the report from sight loss charity RNIB Scotland, This Is Working.
"I can see things very close up but the further away they are, the less detail I can make out."
Mark, who studied mechanical engineering at Abertay University, said: "I work in road maintenance.
"Most of my work is based in the office. My job can be pretty visual. But the mapping software I use is reasonably accessible with high contrast colours. Most things I can alter through Windows software or enlarge on the photocopier."
According to RNIB Scotland, too many employers still have misconceptions about sight loss.