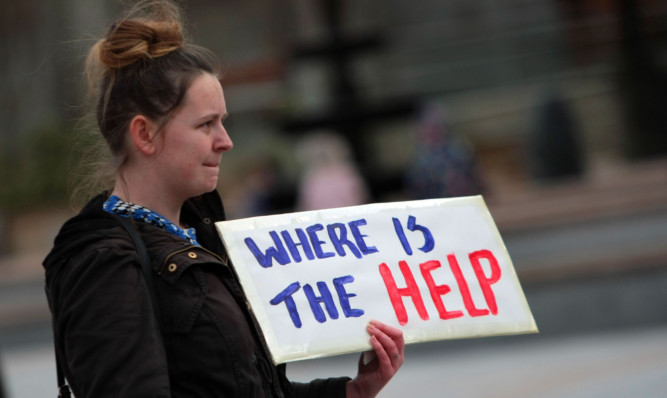 NHS Tayside could have done more to save the lives of four Dundee men who committed suicide, their devastated mothers have claimed.
The four women all believe that their children would be alive today if they had been properly treated by the health board.
Now they have launched a campaign demanding changes to mental healthcare in the city, particularly at the Carseview psychiatric facility.
A petition organised by the Lost Souls of Dundee group, which protested in City Square on Saturday, has already garnered more than 1,000 signatures.
Mandy McLaren, whose son Dale took his own life in January, is one of those behind the petition.
She said: "If the people in Carseview had done their jobs properly Dale would be alive today. He was in a desperate state and should have been sectioned.
"When they asked him if he had suicidal thoughts he said he had but they still allowed him to walk out of Carseview.
"Two days later I found him. How many more need to die before the system changes?
"GPs need to be given more power in these situations.
"They often know patients for most of their lives and know exactly what's going on but aren't given a say in psychiatric care."
The group, which also protested outside the Dundee psychiatric facility, hope to take their petition all the way to Holyrood.
Jackie Hawes lost her son Harry, who played for Dundee FC, six years ago, and believes NHS Tayside's mental healthcare needs fundamental reform.
She said: "After his overdose, the doctors gave him a card and told him to phone the psychiatrist when he really needed to be properly assessed.
"It was like they couldn't get him out of the door quick enough. In my opinion, many of Tayside's mental health staff have no real experience dealing with these youngsters.
"Their answer is to give more medication and keep upping the dosage, which doesn't work. They should use relatives of victims to advise staff and patients.
"We could relate to what they're going through based on personal experience.
"If Harry had received that type of care I am sure he'd be alive today."
Another member of the group, Maureen Martin, is suing NHS Tayside for criminal negligence after her son Dennis committed suicide while in Carseview in September 2013.
She said: "Carseview just didn't take him seriously. He should have been on full suicide watch while he was in there.
"They let him down when I thought he was safe and being cared for."
Yvonne Mullen, 52, who attended the protest on Saturday, said NHS Tayside treated her son Steven, who took his own life in 2010, as "a silly, attention-seeking lad".
"He wasn't treated like someone with mental health issues," she said.
"When he needed help, it just wasn't there for him. If he'd been properly assessed and treated, he'd still be with us today."
A spokesperson for NHS Tayside said: "During the last 18 months we have undertaken a wide programme of improvement across our services to address quality and safety concerns.
"We take all concerns about patient care very seriously and any complaints which are received in relation to concerns about patient care are dealt with directly by our complaints and feedback team."