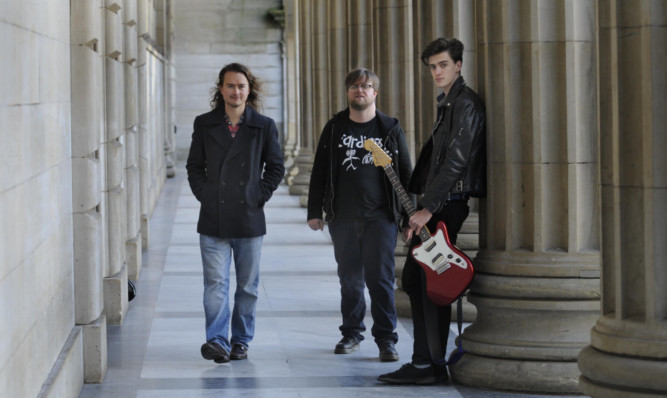 Musicians producing everything from heavy metal to polyphonic choral music of the Renaissance have been given grants as part of the Dundee Musicians' Awards.
The artists all received funding as part of the scheme, which helps support new projects for musicians working in a range of genres.
Established in 2008, the awards are run by Leisure and Culture Dundee.
Grants of up to £500 are given to Dundee-based musicians to help them meet the cost of creating new works.
The recipients include critically-acclaimed heavy metal trio Fat Goth.
The rock band will put their grant towards the cost of producing and promoting their forthcoming fourth album.
Fat Goth released their third album One Hundred Per Cent Suave last year, which was recorded with support from Creative Scotland.
They have played T in the Park and won comparisons with acts such as The Jesus Lizard and Queens of The Stone Age.
The band have also been immortalised in Kerrang's legendary Pandora comic strip.
Also receiving a grant were Cantiones Sacrae, a vocal ensemble that exist at the other end of the musical spectrum to Fat Goth.
The group specialises in polyphonic choral music of the Renaissance period.
It is the second time the four-piece vocal group has won a grant from the Dundee Musicians' Awards.
The a cappella group will perform a Christmas concert in Dundee at St Salvador's Episcopal Church on Sunday, December 20.
Also receiving grants yesterday were Inkomega, a DJ and producer who creates electronic music with a tribal influence, and up-and-coming Dundee band Jonny Jewel, whose debut album was released earlier this month.
Dundee Lord Provost Bob Duncan, chairman of Leisure and Culture Dundee, said the awards not only benefit the musicians involved but also help to raise the profile of Dundee and its cultural successes.
He said: "The Dundee Musicians' Award has supported a varied range of projects this year and continues to raise the profile of the excellent music coming out of Dundee."
Previous winners include The Mirror Trap, who recently completed an arena tour of Russia with Placebo, and Dundee favourites Anderson, McGinty, Webster, Ward and Fisher.