 Move over Rabbie Burns! Has history overlooked a working class 19th century Dundee writer known as the People's Poet? MICHAEL ALEXANDER spoke to a Dundee literary expert to find out more.
Anthony Faulkes has always enjoyed a good historical mystery.
An authority on ancient Icelandic literature, the 78-year-old Oxford University English literature graduate was a professor of Old Icelandic at The University of
Birmingham for 20 years before he retired with the title Emeritus Professor of Old Icelandic.
But less than two years after he and his wife Patricia moved to Dundee to be nearer their son Edmund – a former Episcopalian minister who now teaches Classics at Dundee High School –
Anthony found himself trying to decipher a new type of saga after a "peculiar" memorial stone caught his eye in Dundee's Eastern Cemetery.
And it has inspired him to write a book about Dundee's largely forgotten 19th century 'People's Poet' James Easson.
"We live quite close to Edmund – it's about a 20 minute walk, and it's on the other side of the cemetery," Anthony told The Courier at his home.
"Quite frequently we'd walk through the cemetery by various routes to have tea with Edmund or have a meal with him. There are a lot of interesting memorials there. Some are not difficult. You look them up on the internet and find out who they are.
"Then one day James Easson's grave stone caught my eye. It is much more peculiar yet was very difficult to find out anything about."
The stone reads 'James Easson. Born 25th December 1833, died 5th June 1865'.
But what truly caught Anthony's attention was the lettering underneath which reads: 'Erected by the proprietors of the People's Journal. In memory of A WORKING MAN who had rare literary gifts and whose writings are his best memorial'.
Anthony added: "I thought this is quite exceptional because it meant he was a working class man. It would have been very rare for a working class man to be writing poems in the 1850s. So I looked on the internet and couldn't find anything about him. I emailed the Dundee City Archives. They said if you go to the cemetery offices they will be able to tell you more. But of course they didn't know any more than what was on the grave stone.
"Eventually I went to the Dundee Central Library. They pointed me towards a book called the 'Bards of Angus' which gives him a mention and quotes two poems. They had a number of copies of the People's Journal there, many of which are in bad condition with pages missing. So I had to go to the British newspaper archives and to the British Library itself.
"When I began to read I found that James Easson's story was really quite something."
Anthony discovered that Easson suffered from more disadvantages than most men are able to bear. He was an illegitimate orphan and his seaman father died before he was born. His mother died when he was two, and he was brought up in Dundee in great poverty by his only surviving relative, his widowed grand- mother.
He attended only an elementary school and a Sunday school, and worked most of his life as a house painter in Dundee. He died at the age of 31 in Dundee Lunatic Asylum – probably after being incapacitated by a stroke. Life expectancy for men in Dundee at that time was just 33.
Leaving behind 180 pages of poems, sketches and short stories, many were illustrative of life in Victorian Dundee and showed great concern for the poor and the sick and those with disabilities. He was a popular writer in the city at the time and came to be known as the 'People's Poet'. But his legacy has been largely forgotten – and he never attained the stature of writers like Burns, Sir Walter Scott, or even another Dundee 'working man', the legendary William Topaz McGonagall.
"Some of Easson's poems are pretty awful," laughed Anthony, "but they are remarkable for a working man. Although literacy in Dundee and Scotland at that time was much better than in England, even so, I was surprised to find him writing poetry – which is rather better than McGonagall. It doesn't suffer from the same faults!
"Like McGonagall, James Easson was patronised by George Gilfillan, a local congregational minister of the time. He used to call them his 'sporadic poets', because they weren't obviously full-time poets and didn't produce anything eminent or an enormous amount of poetry. But he encouraged Easson to publish privately a collection of his poems and wrote an introduction to it, warning people that it's alright to write poems in your spare time, but don't expect to become rich and famous because you won't!
"In terms of world literature Easson was not significant. He wrote a few pretty poems. He wrote to express himself. But is he a forgotten Scots literary hero? That's a good question. He certainly wasn't as good as Burns. His work was only published in his local newspaper, largely unknown outside Dundee and Angus. But he was a remarkable man – and in my opinion was better than McGonagall, who did become well known internationally!"
*The Life and Works of James Easson: The Dundee People's Poet, has been self-published by Anthony Faulkes. For more information phone Anthony on 01382 699385 or email him at anthony.faulkes@talktalk.net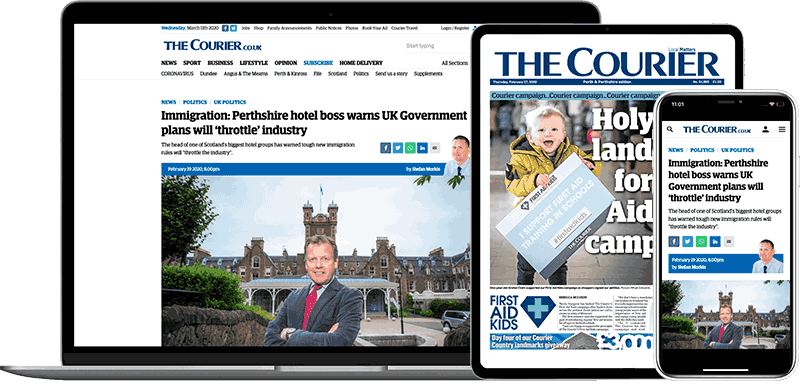 Help support quality local journalism … become a digital subscriber to The Courier
For as little as £5.99 a month you can access all of our content, including Premium articles.
Subscribe