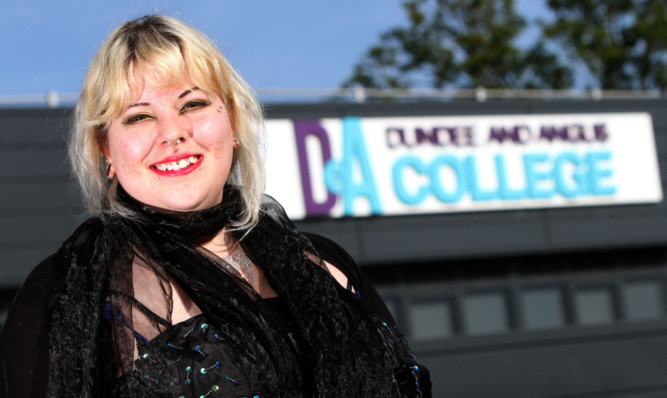 Hundreds of people gathered in Dundee to celebrate the courage and dedication of students who have overcome almost unthinkable tragedy and adversity.
Dundee and Angus College principal Christina Potter hailed "remarkable" individuals, as almost 100 received special prizes at the Gardyne Theatre.
Overcoming more than most were Gypsy Carty who battled serious illness during her studies and Jamie Reid, whose mother's disappearance and death inspired him to go to college.
Newport resident Jamie was drifting through uneventful jobs when his mother Susan went missing in January last year, sparking a massive police hunt.
It was not until two months later that human remains found in Tentsmuir Forest were identified as those of the missing librarian.
"I didn't have a focus as a teenager at school and hadn't really decided what to do with my life," the 23-year-old said.
"It wasn't till my mum went missing that I decided I should get out and do something more positive so I investigated the options at college."
Jamie enrolled on an access to humanities and community education course aimed at people who have been out of education for at least three years and did voluntary work for the Scottish Association for Mental Health.
During his one-year course, however, he was dealt further blows when his dad, Keith, and his granddad died within weeks of each other.
Despite all this, Jamie who won the Ede and Ravenscroft Prize for Outstanding Commitment is considering conditional offers from several universities.
Joining him on the stage was Gypsy, who has borderline personality disorder, suffers from chronic depression and was told she needed surgery midway through her studies. But the 22-year-old not only completed every unit of her course with the equivalent of 'A' passes, she was also elected vice-president of the Students' Association.
The Dundee resident won the Student Association Champion prize and will be back at D&A College after the summer break. "Coming to college actually helped me cope," Gypsy said. "You could say it helped save my life."
One of the new prizes this year was the Gillian Anderson Memorial Award for Achievement introduced at the request of students in memory of their friend, who was studying HNC care and administration in 2013 when she died following a brain haemorrhage. It went to Suzanne Strachan.