 Managers at HMRC call centre in Dundee have been roundly criticised by an employment tribunal over their treatment of disabled employees after they sacked a woman who was suffering from depression, The Courier can reveal.
In addition to awarding a woman more than £9,200 after she was unfairly dismissed and unlawfully discriminated against by HMRC, the tribunal panel issued recommendations for future treatment of disabled employees.
In its written reasons, which have been revealed exclusively to The Courier, HMRC has been advised to review its appeals procedure after Rebecca Smith of Menzieshill was awarded a total of £9,202.90, plus interest of £142.02.
The panel stated it was "concerned at the state of affairs relating to the way the respondents (HMRC) handle disability-related matters at the Dundee Call Centre.
"The facts as found by the tribunal were that the respondents dismissed the claimant, a young lady suffering from depression, because she was off ill with depression for 14 days after the funeral of a friend who had died in a car crash."
The tribunal panel said it would have been "a reasonable adjustment" for HMRC to have discounted her absence and added that: "What was striking is that none of the decision-makers in the case appear to have sat back and considered the issue in those terms."
The panel took the view that the decision-makers "appear to have become caught up in the minutiae of the respondents' policies and whether or not they had been applied correctly.
"The duty imposed by the Equality Act on the respondents is to make reasonable adjustments."
During the five-day tribunal held in June, it was revealed that Ms Smith had been employed at the call centre in Sidlaw House as a tax credits advisor in October, 2008. Shortly after she was diagnosed as suffering from depression. Her illness fluctated in its severity; when she had a flare-up she found herself unable to leave her house and was also more vulnerable to upset.
She had been on medication since December 2008 and the following year her ailment flared up, causing her to be off work from May 5 to August 10 2009.
She had received cognitive behaviour therapy and was referred to HMRC's occupational health providers, who advised the company: "You may wish to consider allowing her additional tolerances to her absences along with reasonable time to attend specialist appointments."
Over the next two years her bosses became concerned over the length of breaks she was taking along with instances of lateness and she was given a written warning for persistent lateness in May 2011.
Ms Smith had also raised a grievance against the line manager for disability discrimination and raised harassment issues.
In September 2012 she suffered a bereavement when a friend was killed in a car crash. She asked for two days off to attend the funeral but that was turned down by bosses, who gave her one day.
However she called in sick the following day and was off for several days, eventually getting signed off with depression/stress.
Despite the fact she was off sick, her line manager decided to move straight to dismissal. Ms Smith appealed but it was not upheld.
The tribunal noted: "The respondents do have a legitimate purpose in operating a Poor Management Attendance policy. Such a policy is always likely to impact more on those who suffer from disabilities.
"This does not mean that an employer is precluded from having and operating such a policy, it means on the contrary that such a policy must be capable of being applied in a way which complies with the terms of the Equality Act. It must be a proportionate means of achieving the legitimate aim of improving employee attendance.
"The difficulty in the claimant's case appears to be the practice at Dundee of treating tolerance levels as being 'set in stone'."
The panel stated: "Within three months the respondents' senior management shall consider the terms of this judgment and whether appropriate steps ought to be taken to reform the appeals process in disability-related dismissals so as to ensure that an overall view of the legality of the respondents' actings can be taken."
Ms Smith's solicitor Ryan Russell, of Muir Myles Laverty, said: "I am absolutely delighted with the unanimous decision of the tribunal.This was a complex claim involving various disability discrimination claims as well as unfair dismissal. The case serves to highlight many problems that disabled employees encounter on a regular basis.
"The Equality Act 2010 is in part designed to help remove any disadvantages to disabled employees in the workplace. There is a duty to make the reasonable adjustments to comply with their legal obligations, this is not a favour to the employee, it is a legal obligation.
"We are seeing a worrying rise in the number of disability discrimination claims whereby disabled employees are being dismissed.I would urge any employees with health difficulties to seek advice on whether they are being fully supported."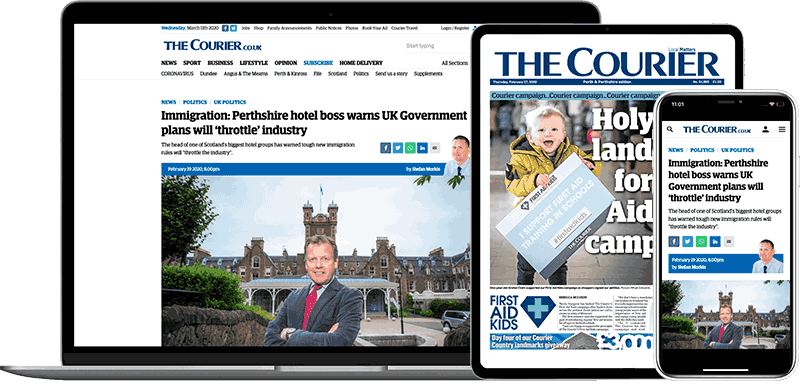 Help support quality local journalism … become a digital subscriber to The Courier
For as little as £5.99 a month you can access all of our content, including Premium articles.
Subscribe