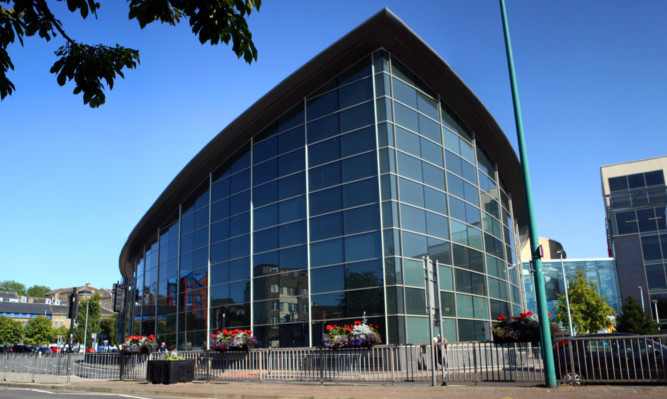 A Dundee teenager had his back sliced open by an underwater metal grille at the city's Olympia swimming pool, sparking new safety fears.
The boy's worried mother has joined calls for an investigation into the running of the pool, where a young girl almost drowned at the weekend.
Morgan Academy pupil Jack Teviotdale was rushed to the accident and emergency department, where medics had to put a number of stitches in the wound.
Jack had been slammed into the side of the pool by a wave and was left shaken by the incident.
Leisure and Culture Dundee, which operates the pool, said "a visual and physical inspection" of the pool had been carried out by staff.
However, mother Lesley said she did not believe the 15-year-old's injuries had been taken seriously by managers at the pool.
"He was thrown against the side of the pool by a wave and gashed his back on a metal grille," she said.
"The cut is about three inches long and required stitching at Ninewells. He is still in pain now.
"I want to make sure that this doesn't happen again and I think they should carry out a proper investigation. I really don't believe that has happened.
"I was disgusted by the attitude of senior staff as they seemed to consider 'bumps and bruises' a daily occurrence and calmly told me they'd seen 'a lot worse'," she added.
"Of course, I'm annoyed about the distress that this caused to my son but if there is a hazard lurking underwater then I would hate to think what could happen to someone younger or more vulnerable.
"The cut could have been anywhere. What if it was to someone's face?"
Mrs Teviotdale's comments come after Carnoustie father Stephen Goligher questioned the training and response of lifeguards at the pool, after he rescued nine-year-old Georgie Findlay from drowning after she got into difficulties during a visit to the Olympia with her mother on Saturday.
Leisure and Culture Dundee defended the training of staff following that incident.
In response to the latest accusations, a spokesman said: "We can confirm a 15-year-old boy suffered a cut to his back at Olympia on Friday afternoon during a 'wave' session.
"Staff treated the boy on-site, contacted his father and advised he should seek medical attention.
"Following contact by the boy's mother on Monday, staff confirmed a visual and physical inspection of the area where he had been injured had been undertaken."