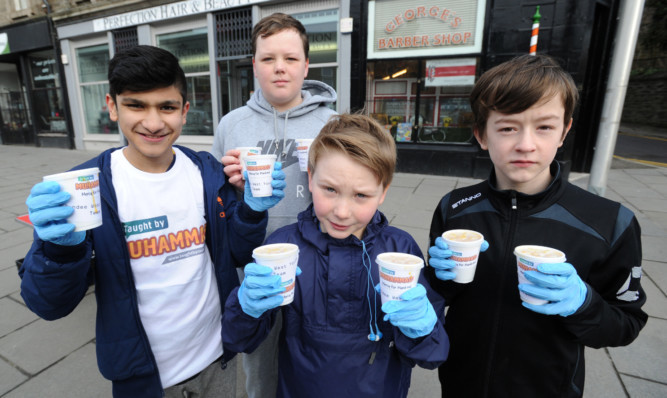 Dozens of local children braved the wind and rain at the weekend to hand out free food to some of Dundee's most deprived people.
Fifty inspiring youngsters hit the streets throughout Dundee to dish out 400 cups of soup and hot drinks to homeless units and the general public.
The initiative, organised by Muslim outreach group Taught by Muhammad, arranged for children to visit the city's Maryfield, Dundee east and Lochee areas to meet and greet members of the public, as well as people reliant on homeless shelters.
Operational manager and event organiser Rizwan Rafik believes the impressive turnout is proof that Dundee is a united and integrated community.
He said: "The event was great and gave youngsters the chance to work together no matter their race, religion or age. It gave them positive motivation and showed the community in a very positive light.
"Altogether, across three sites in the city, we had between 45 and 50 young people turn out.
"We went to shelter complexes as well as the high streets to hand out soup to locals and homeless people."
Mr Rafik added: "I think some of the kids were a bit reluctant at the start, but then they started to realise what it meant to others.
"For us, it's great to see that integration. Events like this break down so many barriers.
"It wasn't just about handing out soup, it was about putting a smile on people's faces and trying to make a difference to their day.
"When you see the support of the community and the smiles on people's faces it's really heart-warming.
"We're all part of Dundee and events like this show that we're all here together. These young people, for me, are role models."
Taught by Muhammad was a launched in the summer of 2013 as an outreach project for the Yusuf Youth Initiative.
It aims to improve understanding between the Muslim and wider community.
Taught by Muhammad runs a full-time foodbank, fortnightly curry kitchens, budget cooking classes and youth integration projects.
The project works with more than 40 partner organisations throughout the city.