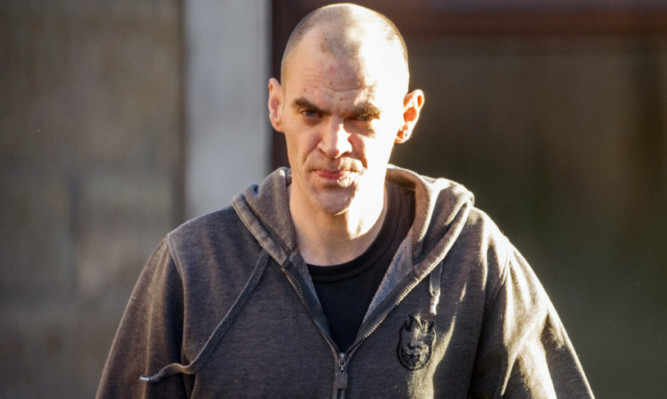 A Dundee cyclist who launched a tirade against a couple in their 70s, punched their car's wing mirror and branded the man a "middle class p***k" has been sentenced to a tagging order.
Duncan McLaren followed the driver after claiming he had been cut up as he pulled into the approach to the council recycling centre on Riverside Drive.
The 37-year-old later told officers his victim, Alexander Ramsay, was a "middle-class p***k" who "shouldn't be allowed on the road".
McLaren avoided a jail term over the incident, after a sheriff warned him that he had to change his ways.
Depute fiscal Trina Sinclair told Dundee Sheriff Court: "The complainers are a couple in their seventies. At around 1pm they were driving to the skip at Riverside. As they turned, the accused was riding a bike with a trailer and they swerved in front of him. They then slowed down to let the bike pass.
"Mr Ramsay got out of his car to unload items to the skip and the accused arrived two minutes later.
"He approached Mr Ramsay, shouting about his driving and swearing, saying: 'You shouldn't be allowed on the road'.
"Mr Ramsay walked away and the accused shouted: 'I am not finished with you yet'.
"As Sybil Ramsay, his wife, asked an employee where certain items went, the accused punched the wing mirror and smashed it. He then left."
Miss Sinclair told the court that the couple went to the police, who traced McLaren after reviewing CCTV footage.
After being detained, McLaren told officers: "The boy drove like a p***k. That middle-class p***k shouldn't be on the road. I don't care what you do, I will keep doing things like that."
McLaren, 37, of Forest Park Place, pleaded guilty to behaving in a threatening and abusive manner by shouting, swearing and threatening Alexander and Sybil Ramsay and punching the wing mirror of a car, smashing it, at Dundee City Council amenities site on Riverside Drive on March 23.
Doug McConnell, defending, said: "The only option for the court other than custody is a restriction of liberty order.
"Mr McLaren suffers from Huntington's disease. At the time, it was a very difficult period, as he was a carer for his mother.
"He has been of good behaviour and that has changed his attitude."
Sheriff Tom Hughes imposed a restriction of liberty order for four months, meaning McLaren will be electronically tagged and confined to his house from 7pm until 7am every day.
He said: "It has to be quite clear to you that I take a very dim view of your conduct. You can't go on acting like that.
"You are very close to being detained in respect of this matter now.
"If you carry on acting the way you are going, your next stop is custody you're going to have to change your ways."