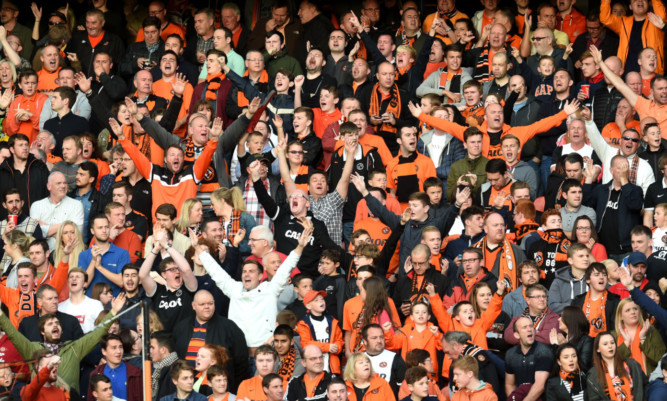 Dundee United have told fans who bring drums to Tannadice to beat it after nearby residents complained about the noise they make.
The club has banned the instruments from the ground much to the disappointment of supporters trying to create an atmosphere while watching home games.
Supporters' group the Tangerine Army has labelled the complaints from those living on Sandeman Street as "ludicrous". But resident Shona Gilmartin, 52, said the repetitive noise can be irritating.
"The drums are quite annoying," she said. "It can be really noisy sometimes from fans banging them.
"I used to work as a steward there and I understand why fans want them but it is very loud.
"It's more annoying when you are trying to watch the TV or something when there's a constant 'bang, bang, bang'.
"I don't have a problem with it though and I've never complained.
"It's not every game they have drums and there's only certain teams that bring them."
Edna Duncan, 77, has lived on Sandeman Street for 40 years.
She said she heard the drums for the first time during United's 2-1 loss to St Johnstone on November 21.
"I think I did hear some drums the other weekend there but I've got double glazing so it wasn't too bad," she added.
"I think, in general, it is actually quieter living here than it used to be. The stand used to be a lot more open but it's all built up now."
In a statement the Tangerine Army said it had hoped the drum in its group could stir the players and lift the "dire" atmosphere inside Tannadice during matches.
"It has come to our attention that the club has banned the use of drums for both home and away fans," the statement read.
"We have a drum in our group, which is a fundamental part of what we are trying to do at Tannadice.
"For years now we have believed that the atmosphere at Tannadice has been dire and we wanted to do something to improve it."
Dundee United had not responded to a request for a comment at the time of going to press.