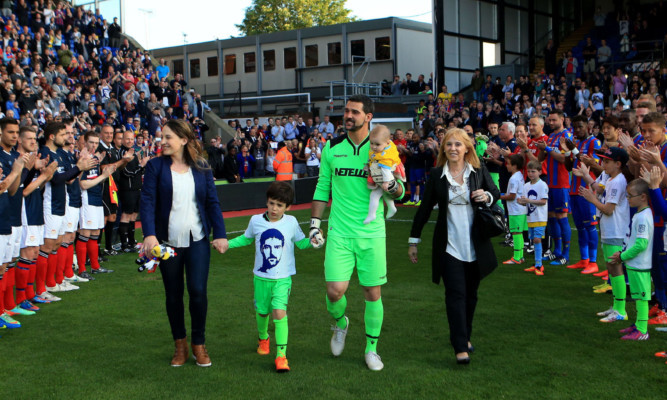 The hugely successful testimonial match for former Dundee FC star Julian Speroni could lead to a lasting link between the Dark Blues and his current club Crystal Palace.
The London side were so impressed with the atmosphere created by the visiting fans that they will look into the staging of a pre-season friendly in the coming seasons.
Speaking to The Courier, one of the club's owners and co-chairman Stephen Browett was fulsome in his praise of Dundee FC and its supporters.
He said he'd forwarded the suggestion for another meeting to senior officials at the club and hoped it could happen in the near future.
Around 2,000 Dundee fans travelled to London for the star-studded match at Selhurst Park and hailed it as one of their best football experiences of recent years.
Palace fans too were delighted with the atmosphere created at the game by the visitors and called for a pre-season friendly to let them travel north to reciprocate.
"On behalf of everyone at the club, I would like to take this opportunity to thank the supporters of Dundee for their quite outstanding support of the Julian Speroni Testimonial match at Selhurst Park this week," said Mr Browett, who is also chairman of fine wine wholesaler Farr Vintners.
"We have welcomed the supporters of the 19 other English Premier League clubs to our stadium this past season but Dundee's were by far the loudest, friendliest and most passionate that we have seen.
"Indeed, many Palace fans have described them as "the best away fans ever".
"We would certainly consider another friendly match with Dundee at some time in the future, although I think it's too late to organise it for this summer.
"I'm forwarding this suggestion to our chief executive and club secretary."
The match ended in a 4-3 win for a Palace side that saw current stars, former players and manager Alan Pardew all pull on the red and blue.
The game was a hit with each and every one – including the Scotland internationals currently playing for Palace.
Was a pleasure to play in julian speroni's testimonial last night #legend #cpfc

— James Mcarthur (@jamesmcarthur16) May 27, 2015
James Mcarthur (@jamesmcarthur16) tweeted: "Was a pleasure to play in Julian speroni's testimonial #legend #cpfc", while Barry Bannan (@bazzabannan25) said: "@JS_Testimonial brilliant night thanks a lot wat a legend #eagles".
Club legend John Salako (@JohnSalako), meanwhile, added: "So amazing to be part of Julian Speroni's Testimonial. Brilliant to be back out on the hallowed tuff and the fans were brilliant."
Dundee saw former stars including Fabian Caballero, Beto Carranza, Juan Sara and Speroni himself pull on the dark blue once again, while Charlie Adam fulfilled a boyhood dream by playing and scoring for his home-town heroes.