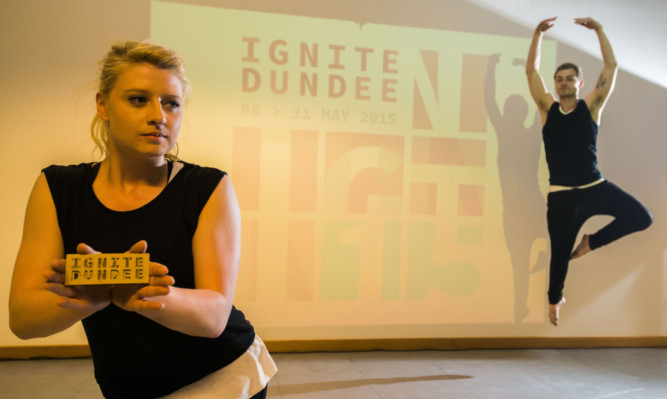 Contemporary dance and laser cutting launched this year's Ignite Dundee, which highlights the city's wide range of culture and creativity.
The festival, which runs from May 8 to May 31, includes degree shows, exhibitions, talks, workshops and open studios.
Dundee and Angus College students Glen McArtney and Katherine Whale gave a dance performance to launch the programme, followed by Dundee MakerSpace organiser Grant Richmond demonstrating laser cutting.
Stewart Murdoch, Dundee's director of leisure and communities, said: "Dundee is an incredibly proud creative city and each May we lift the lid on the many talented students and creative entrepreneurs who live and work here.
"The Ignite Dundee festival pulls together many of the city's strengths, from the Abertay and Dundee universities degree shows to open studios, workshops and talks.
"Part of Dundee's case to become the UK's first Unesco City of Design was its cultural heritage and vibrant communities, which Ignite Dundee once again puts on show right across the city.
"There really is something for everyone to enjoy, whether you want to learn a new creative skill or be inspired by the hard work of Dundee's varied creative communities."
Major festival attractions include the Abertay University and Dundee University degree shows and the Dundee and Angus College end of year exhibition, as well as open days at Dundee MakerSpace and the Tin Roof arts collective in the city's west end.
Dundee Contemporary Arts is showcasing the work of influential artist, designer and stylist Maripol, while They Had Four Years shows new sculpture, installation, performance and video from recent graduates of Scottish art colleges.
The McManus galleries is showing an exhibition exploring the influence of ancient Greek and Roman culture, and hosting From Shackleton to the Suffragettes, an evening of art, music and famous characters from Dundee's past.
Interactive sessions include block printing, mini-workshops for all ages at the Forgan Arts Centre, and people sharing their aspirations for Dundee's Unesco City of Design status.
For more information, visit www.ignitedundee.co.uk