Samurai and superheroes have gathered in Dundee ahead of their annual invasion this weekend.
Thousands of costumed characters will descend on Dundee University on Saturday for the fourth annual anime convention, DEE-CON.
The phenomenon, known as cosplay, involves fans dressing up as their favourite characters, and is the highlight of the largest free anime convention in the UK.
Gallery: Anime fans dress up for DEE-CON
The president of this year's DEE-CON organising committee, Rossie Stone, said cosplay was probably the biggest part of the convention and there is a competition to find the best home-made outfits.
He said: "That's how DEE-CON all started with anime fans getting together and cosplay is still a huge element of it.
"My favourite thing each year is always the queue, which is just full of people dressed up as their favourite characters."
He added: "One of the big things about DEE-CON is that people don't feel self-conscious about their interests.
"A lot of cosplayers are usually, shy but dressing up is like a form of escapism that lets people be someone else for the day and it gives people confidence when they are around other people who share those interests."
He said Dundee had become a hub for cosplay because of the city's history of art and computer games.
"Dundee is a breeding ground for all things geeky as it has a history of comic books, which was the original nerdy thing back in the '60s," he said.
We also have a lot of anime societies within the art school and games students at Abertay and they all fed into each other."
The main event will take place at the Student Union on Saturday, when around 2,000 enthusiasts will gather for a day of film screenings, board and video game tournaments, stalls, exhibitions, demonstrations and industry presentations.
Organised mainly by studentsand alumni of Duncan of Jordanstone College of Art and Design, DEE-CON is a fundraiser event with all proceeds going towards the animation degree show in May.
Gary Welsh, one of the event organisers, said: "It's been a lot of hard work putting what we hope will be the biggest and most successful DEE-CON to date together, but I'm sure it'll all be worth it at the weekend.
"People travel large distances just for this event, but even if you're not an anime fanatic, there will be plenty going on at DEE-CON, so come along and join us embrace your inner geek."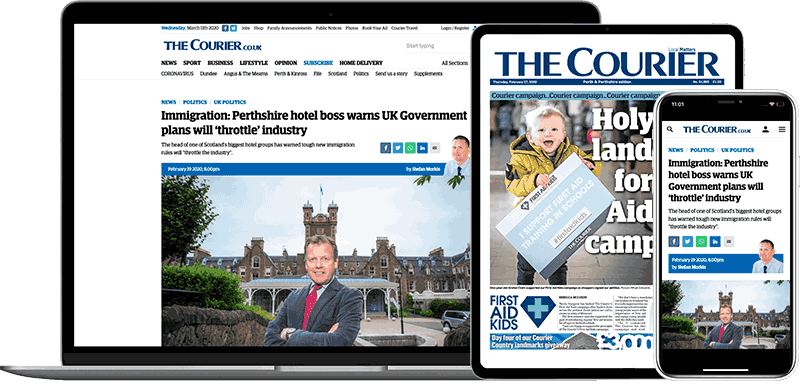 Help support quality local journalism … become a digital subscriber to The Courier
For as little as £5.99 a month you can access all of our content, including Premium articles.
Subscribe