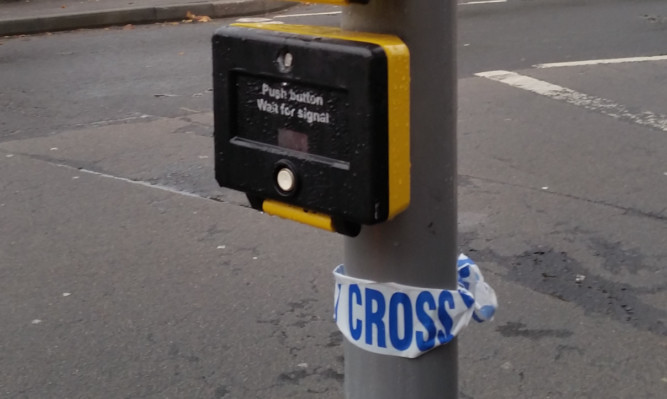 A 15-year-old girl is in a serious but stable condition after being hit by a car at a crossing outside a primary school in Dundee.
It is understood the girl is an exchange pupil from Germany and that her parents were travelling to Scotland to be by her bedside at Ninewells Hospital.
The youngster, who has not been named, has been studying at Menzieshill High School and was hit on Ancrum Road outside Ancrum Road Primary School.
She is said to have suffered a fractured skull.
Charlie Kean arrived at the scene shortly after the incident and said: "The place was pandemonium when I arrived. She was on the floor and appeared to be in a lot of pain, as she was screaming quite loudly.
"The ambulance turned up not long afterwards followed by the police. From what I have been told, the victim was a German student.
"The car that had hit the girl was parked sideways. There were hundreds of cars and there was a guy directing traffic.
"I would estimate that the traffic was backed up for about three hours."
Residents living near the crash site expressed sadness at the girl's situation but told of a busy road, especially at rush hour.
The street was cordoned off for hours between Ancrum Drive and the park, where the crossing is and residents said was the "safest place to cross the road".
School crossing patrolman Ian Loney, who works until around 4pm, said there had been a lot of accidents on the road, including a girl who suffered a broken leg after being hit by a lorry.
He said: "Sometimes people go through the lights here. It amazes me the number of people who don't use the crossing.
"There have been quite a lot of accidents up here, usually involving kids."
Police have confirmed the driver of the car was traced.
A spokeswoman said: "Police Scotland is appealing for witnesses following a serious road traffic collision involving a pedestrian and a black Ford Fiesta car that happened at about 5.20pm on Monday on Ancrum Road, at the junction with Ancrum Drive, Dundee.
"A 15-year-old girl, who was walking on the pedestrian crossing outside Ancrum Primary School at the time, suffered a serious head injury as a result of the collision. She was taken to Ninewells Hospital where she continues to receive treatment.
"The road was closed for several hours while inquiries were carried out into the circumstances.
"Anyone who was in the area at the time and has any information that could assist police with their continuing inquiries into the incident is asked to contact Police Scotland on 101."