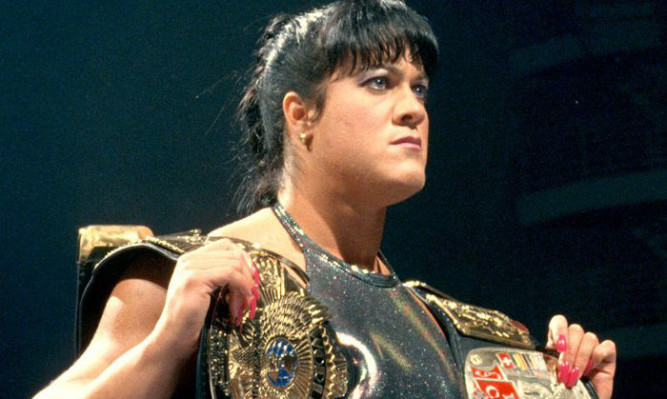 Wrestler and ex-Playboy cover girl Chyna won't be swapping Dundee's Caird Hall for the Celebrity Big Brother house.
Chyna's manager shot down tabloid reports that the ex-WWE star will be entering the CBB house when the Channel 5 show returns.
The Daily Star and Reveal magazine reported the wrestler was in advanced talks with Channel 5 bosses to sign up for the reality show which is reported to have an August 27 start date.
However, the show would clash with Chyna's appearance at the Caird Hall in Dundee at Scottish Wrestling Entertainment's Hell for Lycra XII two days later.
Million Dollar Man Ted DiBiase and Terry Funk have already pulled out of the near sold-out event but Chyna has confirmed that she won't be following suit.
Chyna's manager, Antony Alonzo of Good Guy Entertainments, said: "Chyna is not appearing in Celebrity Big Brother this year.
"This is just a rumour. We are very excited about coming to Scotland at the end of August."
Hulk Hogan is another wrestler who won't be going into the Celebrity Big Brother house.
A few weeks back, the star was reportedly being offered big bucks to go into the house.
However, these rumours were swiftly put to bed after he was kicked out of WWE last week for making racist remarks.
Chyna real name Joan Marie Laurer is the star guest at Hell for Lycra XII.
The 45-year-old will appear alongside Colt Cabana, Kai Katana and British stars who lit up the TV screens every Saturday on ITV's World of Sport in the 1970s and 1980s.
World Wrestling Entertainment (WWE) Hall of Fame inductee Terry Funk was also due to appear but has had to pull out due to health difficulties.
Million Dollar Man Ted DiBiase was also forced to pull out but has promised to make an appearance at an SWE event before the end of the year.
Chyna's career began in the early 1990s as a belly dancer and soon moved on to fitness competitions and professional wrestling.
She was named the 1996 Rookie of the Year and was discovered by WWE legends Triple H and Shawn Michaels who helped her break in to the big time.
Chyna was the only woman to qualify for the Royal Rumble and King of the Ring and became the only female Intercontinental Champion and the only undefeated Women's Champion in WWE history.
She parted ways with the company five years later and toured Japan where she took the country by storm and earned the title of Nikkian Sport's 2002 Women's Wrestler of the Year.
Back in the US she appeared in several films, hosted a variety of shows and was a cover girl and posed nude in two top-selling issues of Playboy magazine.